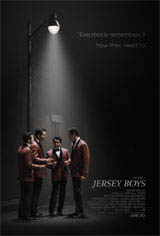 Jersey Boys, directed by Clint Eastwood and based on the stage musical, opens in wide release across Canada today. It tells the story of how Franki Valli and The Four Seasons got their start in show business and rose to stardom despite problems with the Mafia, family crises and debts. Click here to find showtimes. Also opening in wide release today is the sequel Think Like a Man Too. Remember all those couples from the first movie and how they struggled to get in sync? Well, in this one, one of the couples is getting married, so they all head to Las Vegas for bachelor/bachelorette parties. Happy times, right? Maybe, but keep in mind this is set in Las Vegas, where you can get into trouble fast. Things get out of hand and threaten to derail the wedding. Click here for showtimes.
There are also a handful of movies opening in limited release. Robert Pattinson and Guy Pearce star in The Rover. It's set in the future in Australia, where things have run amok. A gang steals Eric's (Pearce) car and leave behind their wounded partner (Pattinson). Eric grabs him and forces him to help track down his criminal buddies. It expands to other cities next Friday, June 27, so if you're not in Toronto, keep an eye on our site for further showtimes starting Wednesday of next week.
Also in limited release is a thriller called I'll Follow You Down. It stars Rufus Sewell as a scientist who goes missing. Gillian Anderson plays his wife and Haley Joel Osment (remember the kid from The Sixth Sense? He's all grown up here) is his son. Years later, they think they may be able to find him – alive. It's playing in Toronto, Vancouver, Montreal, Ottawa and Calgary. Last but not least, the comedy Obvious Child opens in Toronto. It's about a woman (Jenny Slate) who goes through a breakup. She has sex with a stranger, gets pregnant, decides to abort, but keeps bumping into him! It expands to Montreal and Vancouver next Friday, June 27. Have a great time at the movies!