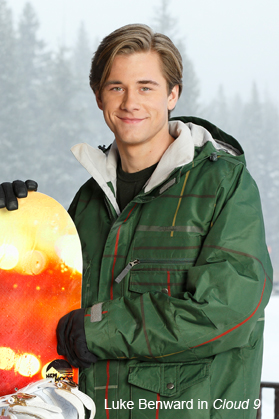 An exciting new Disney movie is premiering this Friday, January 17 on Family Channel. Titled Cloud 9, it's the story of snowboarding champion Kayla, played by new Disney Channel star Dove Cameron (Liv and Maddie), who finds out she's not quite as good as she thought she was when she's dropped from her team. Luke Benward plays Will, a former boarder who quit the sport after a serious injury. Kayla tries to convince him to coach her.
Luke, who has starred in feature films such as How to Eat Fried Worms and Dear John, and has had a recurring roles on the Disney Channel series Good Luck Charlie as Beau Landry, was gracious enough to talk to us about this exciting new TV movie. ~Alexandra Heilbron
Fun movie to watch, was it fun to make?
Oh, it was a blast. We had an amazing time. Cast got along really well. Crew got along really well. We all banded together through the harsh conditions of the winter in Park City and made a film that we're all really proud of.
Was it really cold during filming?
It was freezing. Days were in the 10s and nights with the wind chill were like negative 10.
How did you keep warm?
Well, we had a lot of big fluffy jackets and we used a lot of hand warmers. One thing that was actually pretty cool was that wardrobe got us snowboarding boots that had built-in rechargeable foot warmers. That definitely helped because if your feet are cold, your whole body's cold.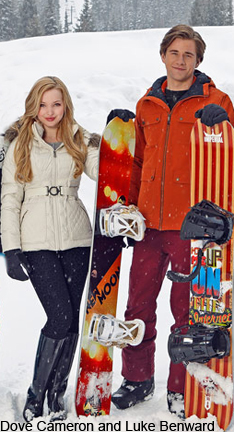 How much of your own snowboarding did you do?
Not much (laughs). I have snowboarded before this and I'm an intermediate snowboarder — I can get down the hill but I can't do the half pipe. This movie's a lot about half pipe and it's very hard. Watching it on TV, the pros make it look really easy and make it look so fluid. They had pretty much everyone in the cast go down a half pipe and up the walls to see how it feels and the walls are steep. Really steep.
And icy, right?
Yeah, it's all ice. That's how they construct it, so it hurts to fall. So during filming, I didn't do much of it (laughs). Although one time, they had me go down a huge half pipe in Park City and go down the middle and kind of weave in and out, go up the walls a little bit with a GoPro (portable camera that attached to the board), so I got to do that, which was cool. I had been asking a lot for them to let me go down it and they were a little iffy about it, but then the stunt coordinator said, "Here, take the GoPro, go down, and I'll meet you at the bottom."
What can you tell us about working with Dove Cameron?
I can tell you a lot! I admire her, I think she's a really talented actress, really talented singer — we had a blast. We get along together great. She's over a lot for family dinners on Sunday nights, she's over at our house a lot for that and we really became great friends on set. It was a blast to work with her and I think she's a really amazing artist.
You've been acting since you were five, does working on a film change as you get older?
Definitely! I recently turned 18. The Screen Actors Guild has different rules for underage actors. Growing up, I always had to do three hours of school a day at least, and then, depending on what age I was, there were rules about how many hours I could work. Up until I turned 18, the highest was 10½ hours and then I had to be wrapped [allowed to leave]. Now that I'm 18, I can work as long as they want to work me. There are still rules obviously, but as far as that goes, it's definitely a big jump but it's nice. It's not too stressful or anything. I kind of had to get used to not doing school on set, which is a plus and also working possibly 13 to 14 hours.
You sing a song during the end credits of the movie with Dove. You sounded great — how long have you been singing?
Well, for awhile. My mom's an actress; my dad's a musician. So I grew up in this artistic house on both sides and I always was kind of interested in both. It was my dream to be able to do both professionally and seriously so I put out a five song EP when I was in middle school before my voice changed and it was kind of like Bieber's first album. My voice was really high and it was a pop album. And then my voice started changing and puberty happened and that was rough, but I kept singing for fun and then I did two musical pilots for Disney that didn't end up going and a movie that came out two years ago called Girl vs Monster with Olivia Holt. I sang a few songs in that so music has been part of my career for awhile and definitely part of my life for awhile.
Have you ever done live performances?
Yeah, I have. Back when I first cut my EP I actually went on tour for a little bit on a tour bus. It was a tour called IShine and basically we traveled to churches and I talked to a lot of kids about IShine and basically about finding who you are and who you were meant to be and it was a great tour and I did that for about two years.
What do you like more, singing or acting?
I'd say acting. I think now I've begun to focus on that more and kind of hone that craft, but I still love singing.
What's next for you?
Well, Cloud 9 airs January 17 and I've also been working on an ABC Family show called Ravenswood — I have a nice little arc coming up in that which I'm excited about. And about a year ago I filmed an independent Civil War movie called Field of Lost Shoes and I got to work with some really great actors, which I was stoked about. So we'll see what happens with that, if it gets a distribution deal or plays some festivals, so keep a look out for that. Then back to the audition grind (laughs).
You still have to audition for parts?  
Yeah, auditioning's kind of a part of life. I completely understand why, you know. It's hard to just hire someone because of something you've seen them in especially because I'm an 18-year-old boy. So I've got to pay my dues now so hopefully one day I won't have to anymore.
Thank you for talking to us today!
Of course. Thank you!