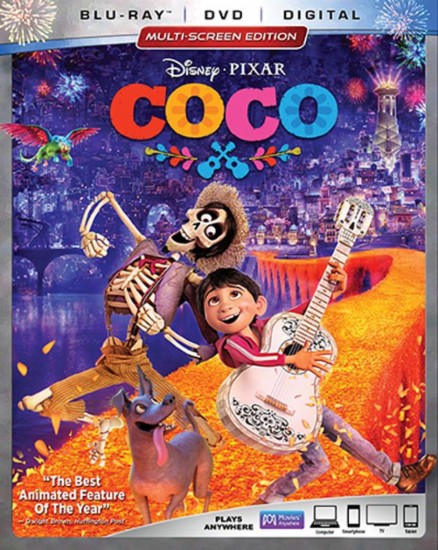 Disney brings a heartfelt tale to life with the new Blu-ray release Coco. It not only takes a look at the Mexican traditions surrounding the Day of the Dead, but paints a colorful picture of life after death.
The story follows 12-year-old Miguel (Anthony Gonzalez),  who loves music and secretly adores the late, great singer Ernesto de la Cruz (Benjamin Bratt). However, Miguel's family is against any and all forms of music. They enlist his help in the Day of the Dead celebrations, when families remember the loved ones they've lost, as the souls cross over to visit their descendants.
While helping out, Miguel accidentally discovers a photo that leads him to believe he's Ernesto's great-great-grandson. Thrilled, he tells his family, but they still forbid music.
Hurt and angry, Miguel runs away and accidentally crosses over to the Land of the Dead. There, he meets Hector (Gael García Bernal), who claims he knows Ernesto and can arrange a meeting. This trip into the land of souls teaches him — and the audience — about the meaning of family and the joy of music.
The informative and entertaining film puts a colorful spin on a macabre theme. It also puts the spotlight on the importance of family. I love that Disney's core message is always a theme that one can and should relate to. This time, it's about spreading the joy of family as we remember the ones we lost and appreciate the family we have. At times, the film does get emotional and leaves you teary-eyed.
The stunning visuals and cinematic performances are another reason to watch this one with the kids. Coco teaches young and old souls about Mexican culture, family ties and the cost of fame. Subtle and sometimes obvious, there are important lessons that this film tries to convey.
Blu-ray features include Director's Commentary, seven deleted scenes, Paths to Pixar: Coco and The Music of Coco, which discusses how the collaborations came to be. There are several highly interesting extras, including a featurette that depicts how the themes of the movie appealed to the cast and crew, a featurette showing the Coco crew exploring Mexico during the Dia de los Muertos holiday, the lengthy animation process of bringing the Land of the Dead to life and more.
I enjoyed watching the featurette that explained how the fashion came together, inspired by the different eras. Also, a particularly interesting featurette involves a lesson on how to make Papel Picado art.
If you've seen Coco and would like to rate/review it, click here.  ~Marriska Fernandes