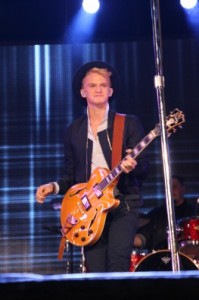 Cody Simpson was in Toronto last weekend, headlining Family Channel's Big Ticket Summer Concert. Before taking over the stage, Cody sat down with us to discuss his music, his pal Justin Bieber and how he loves performing for his fans!
How excited are you for the Big Ticket Summer Concert?
Extremely excited. Me and me band came out here. We're doing an all-live show, just playing a lot of guitar for the entire set. I'm feeling like I can come back now and be able to show myself to a bunch of people. It's probably my biggest ticketed show to date in Canada. It's nice to be able to headline something that 13,000 people are going to be at.
Are you nervous?
I'm nervous. But I'm always nervous. I think if you're not nervous, you don't care about how you're going to perform. And I'm very much worried about making sure it's the best it can possibly be so I think the nerves and adrenaline come with that but I'm very good at turning that into positive energy.
What's the best part about performing live for your fans?
The fact that I'm always so excited to perform. I'm never not excited to perform. I'll wake up and know that I'll have a show that day and just be like, "I'm so excited to play today" and to know that I'll have a different crowd every night that hasn't seen me and that I can show people what I can do on stage. For me, every night is like a showcase.
Just five years ago, you were posting Justin Timberlake covers on YouTube and now you have sold-out concerts. How dramatic has this change been for you?
I've learned so much in the last four years. I've learned more than a lot of people and experienced more than a lot of people experience in 20 years. I've grown up significantly, even in the last 12 months. You learn so much about yourself from age 12 to 18. That's what I've just been through. I've learned things that have helped me throughout my entire life and I've learned so much about myself and about my music, and even more recently, I had this kind of epiphany where I actually just left my record label, which has been a bit of a process of trying to be free finally and move some where I am now able to be creatively free and able to make the music I always wanted to make and strive to be like the artists that inspire me: Jack Johnson, John Mayer, Keith Urban – real songwriters and guitarists and I can see myself heading that way.
Where do you get your inspiration for writing a song?
Whatever's most important to me at that time, whether it happens to be a feeling that I'm experiencing on the road – sadness, happiness, whatever it is, something I'm going through my girlfriend or my ex-girlfriend now, or whatever hits me the deepest usually comes out naturally and I'll end up writing about it.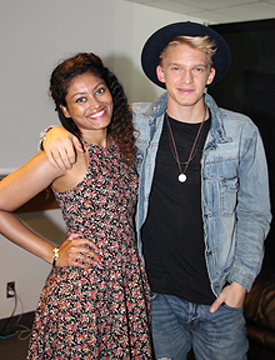 We heard that you recently teamed up with Justin Bieber. What can you tell us about that?
He gave me a call a couple months back and I guess he'd seen some little clips I posted on Instagram of me playing guitar and jamming and soloing, and he was like, "Man, you're getting really good. I'd love you to come and write." We went in and ended up being in the studio til six in the morning, came out with a song, went in the next night and then ended up writing like 12 songs in seven days, working all night. So it was a great experience. We're both very different people and we're both inspired in very different ways but I was able to come in and play some guitars and we were able to write some beautiful songs together, pretty acoustic-sounding, so you'll hear some music this year.
I interviewed your sister, Ally, a few months ago and she mentioned that you really inspired her to create and write her own record and do her own songs. Are you a protective brother?
Yeah. She started making music because I encouraged her to get in the studio with a certain producer. They ended up making four or five tracks together. I was in the studio with her for the first two sessions, teaching her the ropes a little bit and now she's recording on her own. It's awesome to see her come out of her shell a little bit because she was always the shy sibling, always the one that didn't want to do anything or be in front of people or sing so it's nice to see her starting to blossom.
Who is your mentor in the industry?
I have a few. My dad – #1. He's the best guy in the world. #2: My co-manager, Matt Graham. He's like my big brother and gives me a lot of advice. And Scooter Braun.  ~Marriska Fernandes
Photos Courtesy of Zara Rasquinha.