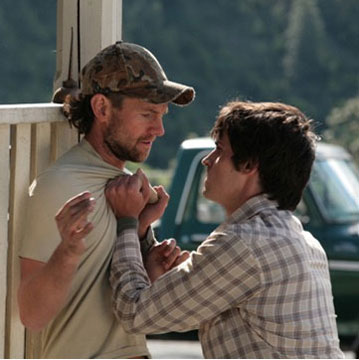 Cole (Richard de Klerk) is a young man who wants to become a writer and get out of Lytton—the small town where he lives. Lytton's landscape is beautiful, but the people who live there are uneducated and going nowhere. Cole's older sister Maybelline has two young children with different men and is physically abused by Bobby (Chad Willett), her white trash boyfriend. She and Cole operate what appears to be Lytton's only business—a run down gas station. They also take care of their brain-damaged mother (Rebecca Jenkins), who keeps walking onto the highway.
Although Cole's best friend, Frogger, is high on drugs and alcohol throughout the film, actor Michael Eisner manages to make him one of the film's more sympathetic characters. He's a good friend and tries to protect Cole from Bobby's verbal and physical abuse. Most importantly, he encourages Cole to use his writing talent to get out of Lytton. The relationship between Cole and his nephew, Rocket, is also endearing—the scenes involving the two are touching and believable.
Despite Maybelline's objections, Cole takes a creative writing class on Saturdays, where he meets rich girl Serafina  (Kandyse McClure). The "Poor boy from the wrong side of the tracks falling in love with an upper class girl" scenario has been done before. But never quite like this. It's actually surprising when Cole tells Frogger that Serafina's black. Up until that point, it wasn't clear he was aware of it. In fact, other than the brief mention, race never plays a part in their relationship. Another thing this movie does well is it allows the audience to watch Cole and Serafina's relationship evolve. We see the chemistry between them. Too many movies rush relationships, which makes viewers lack empathy for the characters.
The story takes twists and turns and we never know just what's going to happen. Written by Adam Zang and directed by Carl Bessai on a tight budget and even tighter schedule, Cole is an enjoyable ride from start to finish. Actress Sonja Bennett received a Genie award nomination for her portrayal of Maybelline, but it's surprising the movie didn't receive more nods. All the leads turned in believable, well-rounded performances. It's also a shame Cole didn't receive a theatrical release. Luckily it's currently available through Netflix and will soon be available on DVD.