Come From Away: energetic crowd-pleasing hit – theatre review
By Alexandra Heilbron on February 20, 2018 | Leave a Comment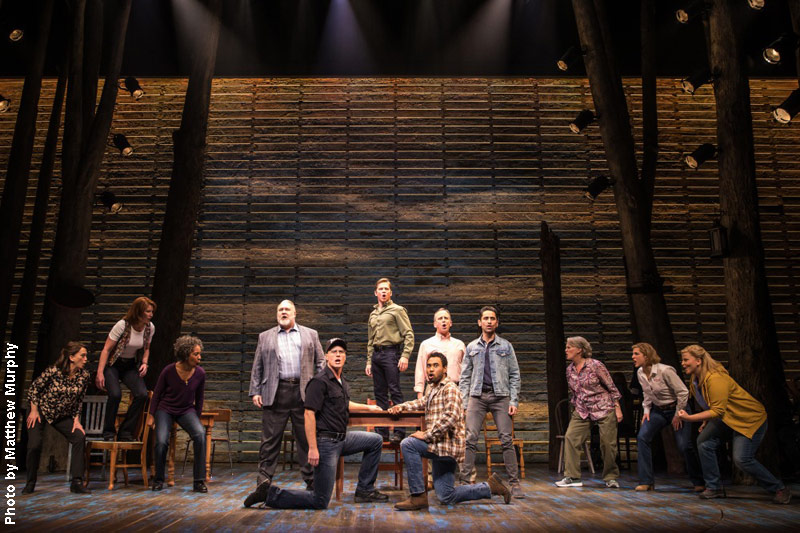 Come From Away, an award-winning musical written by and performed by Canadians, played to sell-out crowds in Toronto in 2016 before heading to Broadway, where it was a hit — receiving seven Tony award nominations and winning for Best Direction of a Musical.
It's still running on Broadway, but a new production has opened in Toronto, featuring an all-new, very energetic cast of 12 who play at least two different characters each — one Newfoundlander, and one person "from away." Come From Away is the touching story of how several Newfoundland communities opened up their hearts and homes to 7,000 stranded plane passengers during the 9/11 crisis in 2001.
The opening matinee on Sunday (Feb. 18) opened to enthusiastic cheers from the crowd before the performance even began. We're quickly introduced to a variety of locals in the city of Gander, as they congregate at the local Tim Hortons. Their lives are simple — these friendly, warm people all know each other. But when a huge number of planes are re-routed to Gander following the terrorist actions in the United States, they're suddenly faced with housing, feeding and otherwise caring for the people (and animals) on those planes.
Although none of the performers are actually from Newfoundland, Jack Noseworthy, who plays the adorable Kevin T (among other roles), comes from two sets of grandparents who were born and raised in Newfoundland. The rest of the cast is equally incredible, including Ali Momen, who plays Kevin T's boyfriend (also named Kevin) and an Egyptian who runs into racial profiling as the rest of the passengers look at him in horror.
Stratford Festival veteran Barbara Fulton charmingly plays a Texas woman traveling alone who meets a fellow passenger from Britain (played by James Kall) and bonds with him. Kristen Peace plays the sweet and sunny SPCA worker who doesn't take no for an answer when it comes to the welfare of the animals on board the planes. Lisa Horner embodies local woman Beulah, who has a heart of gold, leading the charge to get the newcomers settled in and comfortable. Kevin Vidal brings energy and charisma to his role as a passenger from New York who's initially suspicious of the locals, but quickly comes to trust them as he witnesses their complete faith in each other, loaning their belongings without wondering about whether they'll get them back.
Each and every cast member brought so much to their performances, that hours after the show ended, I could remember each person in detail. But if I had to pick one performer who especially stood out, it would be Eliza-Jane Scott as the female pilot of one of the planes. She showed strength and authority while playing Captain Beverley, then would change in an instant to be a happy-go-lucky Islander who has silly (and hilarious) fantasies about the new men in town (especially a hot pilot played by Kevin Vidal). As Beverley, she also had the memorable solo "Me and the Sky," in which she remembers being a plane-crazy little girl who grew up and slowly made her way into a formerly male-only profession.
Following a standing ovation, the creators of the musical were brought on stage and verified that every story we just saw was based on a real story/person. Then one by one, the real-life people took to the stage to stand beside the peformer who had portrayed him/her in a very emotional moment for both the audience and the people on stage.
Come From Away runs to September 2, 2018 at the Royal Alexandra Theatre. Seats are quickly selling out for this popular show, with only single seats available for February/March. For more information and/or to purchase tickets, click here. ~Alexandra Heilbron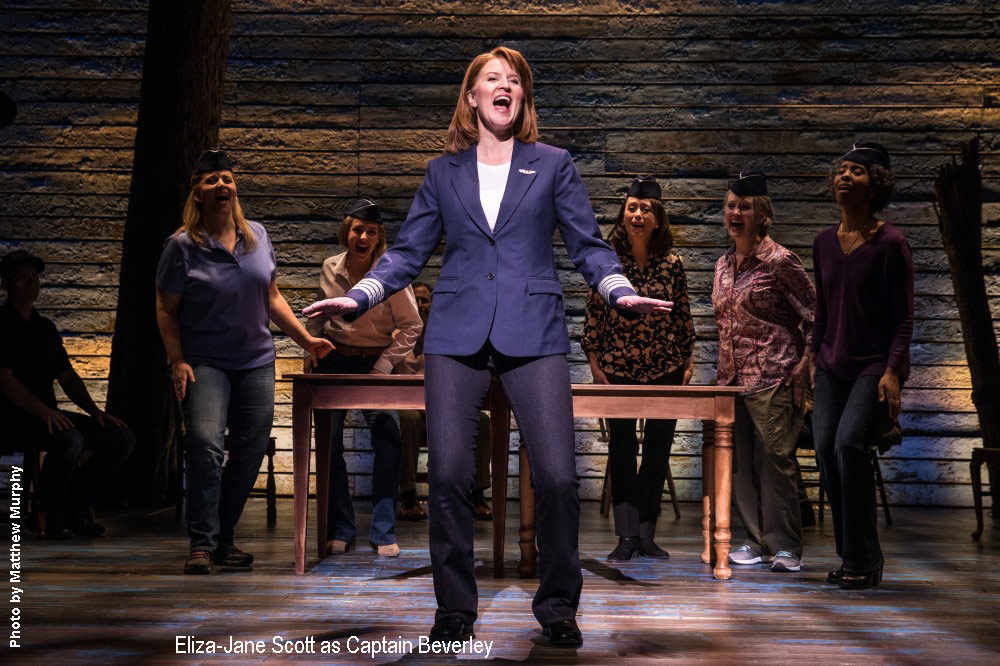 ---
---
---