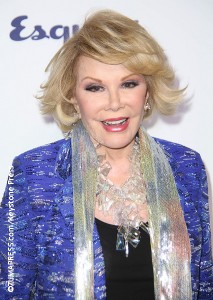 Comedian Joan Rivers, 81, died Thursday after complications from throat surgery last week in Yorkville, Manhattan. Rivers was best known for her work as a red carpet correspondent as well as the host of Fashion Police, where she sometimes stirred up controversy over her outspoken opinions on celebrities.
Daughter Melissa Rivers issued a statement saying she made the decision to take her mother off life support. "She passed peacefully at 1:17 PM surrounded by family and close friends," she said. "My mother's greatest joy in life was to make people laugh. Although that is difficult to do right now, I know her final wish would be that we return to laughing soon."
Born Joan Alexandra Molinsky on June 8, 1933, Rivers rose to fame in the mid-60's as a guest host on The Tonight Show with Johnny Carson. Her stand-up comedy made her a stand out in a male-dominated profession and she became a trailblazer for future female comedians.
TMZ reports that the NYC Medical Examiner's Office plans to investigate the cause of her death. ~Kelly Townsend