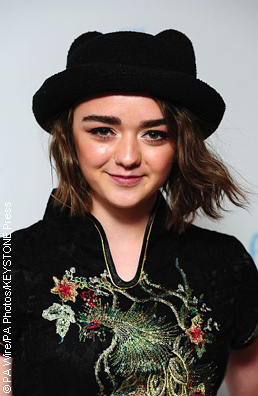 At the Screen Gems panel at San Diego Comic-Con it was announced that Maisie Williams, best known for playing Arya Stark in the HBO's hit series Game of Thrones, is currently in talks to play Ellie in the feature film The Last of Us. 
The Last of Us is based on the critically claimed PS3 exclusive videogame of the same name. It was released in 2013 by the developers Naughty Dog. The story is set in a post-apocalyptic world where parasitic spores have infected humans, turning them into zombies. A survivor named Joel must traffic Ellie, 15, to a secret organization called the fireflies because Ellie is the only infected person who has not been affected by the spores and is the only hope for curing the zombified people.
This is not the first time that Williams has been mentioned for the role. Back in April a fan tweeted her, the game's creator Neil Druckmann and Ellie's voice actress Ashley Johnson about Williams getting the role. Williams responded by saying that she would not say no if asked.
The Last of Us is being produced by Sam Raimi (Evil Dead, Spider-Man trilogy) and is going to be written by Druckmann. There is no release date yet for the film. ~Dylan Paisley