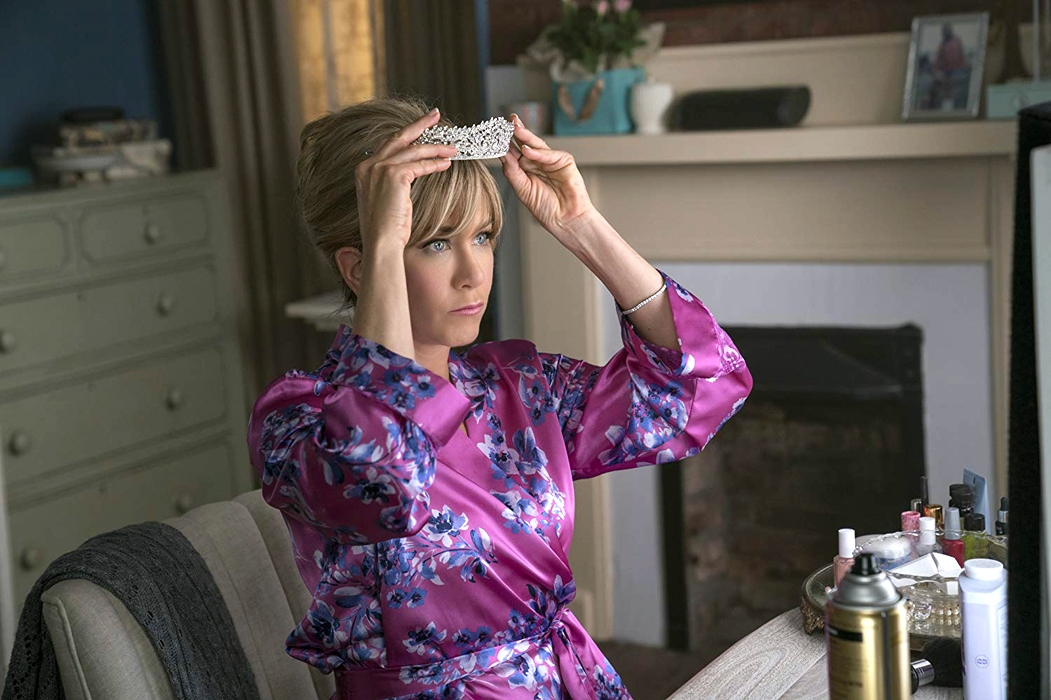 There have already been a slew of Christmas movies and specials airing on Netflix Canada this month, but there's even more holiday cheer to come in December, with TV series such as Chilling Adventures of Sabrina, Free Rein, Prince of Peoria, Super Monsters and Neo Yokio offering up Christmas episodes.
Not everything new is based on the holidays, but there are a lot of treats in the form of original movies coming your way.
Check out a selection of what's new — plus a full list of what's leaving Netflix Canada in December 2018.
A-List Stars
Dumplin' – Teenager Willowdean's former pageant queen mother Rosie (Jennifer Aniston – pictured at top) is used to the fact that her mother, a local celebrity, doesn't have much time for her. However, she grows tired of the shock on people's faces when Rosie introduces Willowdean as her daughter, so the plus-size girl decides to sign up for a pageant herself as a form of protest. (Dec. 7)
Mowgli: Legend of the Jungle – Mowgli (Rohan Chand), who was raised by wolves, navigates a variety of dangers with the help of his friends Bagheera (Christian Bale) and Baloo (Andy Serkis, who also directs) on a quest to discover his real identity.  (Dec. 7)
Springsteen on Broadway – Didn't make it to NYC to see "The Boss" on Broadway? No problem, Netflix filmed it so you can watch it in the comfort of your home. In this stage show based on his best-selling autobiography, Bruce Springsteen performs acoustic versions of his music and shares personal stories. (Dec. 16)
Ellen DeGeneres: Relatable – Ellen stars in her debut Netflix original comedy special, filmed at Seattle's Benaroya Hall, marking the lovable TV talk show host's return to stand-up after a 15-year hiatus. (Dec. 18)
Bird Box – An entity takes on the form of people's worst fears, leading to mass suicides. Melanie (Sandra Bullock) takes her two young children and blindfolds them all so they can't see the entity, and they go on a journey to find a safe place. (Dec. 21)
Foreign Films and TV
Battle – Norway (Dec. 1)
Amalie (Lisa Teige) has the right steps, but the wrong attitude. Things fall back into place when she teams up with a new partner — hip-hop dancer Mikael (Fabian Svegaard Tapia). In Norwegian with English subtitles.
Crossroads: One Two Jaga – Malaysia (Dec. 1)
Hussein, a police recruit with an idealistic view of justice is paired with senior police officer Hassan, but Hussein soon begins to suspect his partner is a corrupt cop who's taking bribes. Meanwhile, an Indonesian immigrant who finds work as a domestic helper is overworked and wants to return home, but can't get her passport back from her employers.
Wolf (BÖRÜ) – Turkey (Dec. 21)
Tasked with risky operations in the spring of 2014, members of a special security unit confront danger as enemies grow on the border of Turkey in this six-part mini-series.
La noche de 12 años – Uruguay (Dec. 28)
In 1973, Uruguay is governed by a military dictatorship. This dramatization, based on true events follows three political prisoners, including José Mujica, who would later go on to become the president of Uruguay. The three men are held in solitary confinement for 12 years in an effort to drive them insane.
When Angels Sleep – Spain (Dec. 28)
An exhausted CEO falls asleep at the wheel while driving home, despite having been pulled over earlier and ordered to stay at a motel. He hits a young woman, who along with her friend, just got out of another car to avoid unwanted sexual attention from two men. His interactions with her frightened friend unleashes a string of dark events.
Documentaries
The Innocent Man – Based on the true crime bestseller The Innocent Man: Murder and Injustice in a Small Town by John Grisham, this six-part series focuses on two murders that shook the small town of Ada, Oklahoma, in the 1980s — and the controversial chain of events that followed. (Dec. 14)
The Casketeers – This documentary series follows a husband and wife team at Waitakere Funeral Services, as they work with grieving families in an insightful and emotional way. (Dec. 21)
Click here for our What's New on Netflix December 2018 photo gallery to see more original content!
Also coming to Netflix December 2018
December 1
Conor McGregor: Notorious
Get Smart
Hellboy
Little Women
Man vs Wild with Sunny Leone: Season 1
Mary and The Witch's Flower
Memories of the Alhambra (Streaming Every Saturday)
Priest
Resident Evil: Afterlife
Rock Dog
Unknown
Yes Man
December 3
Hero Mask
The Sound of Your Heart: Reboot Season 2
December 4
Blue Planet II: Season 1
December 5
American Pie
American Pie 2
American Wedding
Bruce Almighty
Evan Almighty
Wentworth: Season 6
December 6
Star: Season 3
December 7
5 Star Christmas
Dogs of Berlin
Free Rein: The Twelve Neighs of Christmas
Nailed It! Holiday!
Neo Yokio: Pink Christmas
Pine Gap
ReMastered: Who Killed Jam Master Jay?
Super Monsters and the Wish Star
The American Meme
The Hook Up Plan (Plan Coeur)
The Ranch: Part 6
Trolls
December 11
Vir Das: Losing It
December 12
Back Street Girls: Gokudols
Out of Many, One
December 13
Wanted: Season 3
December 14
Chilling Adventures of Sabrina: "A Midwinter's Tale"
Cuckoo: Season 4
Fuller House: Season 4
Inside the Real Narcos
Inside the World's Toughest Prisons: Season 3
Prince of Peoria: A Christmas Moose Miracle
ROMA
Sunderland Til I Die
The Fix
The Protector
Tidelands
Travelers: Season 2 and 3
Voltron: Legendary Defender: Season 8
December 15
Dolphin Tale
Sherlock Holmes: A Game of Shadows
December 16
Paddington
December 18
Baki
Ip Man 3
Terrace House: Opening New Doors: Part 5
December 21
3Below: Tales of Arcadia
7 Days Out
Back With the Ex
Bad Seeds
Derry Girls
Diablero
Greenleaf: Season 3
LAST HOPE: Part 2
Perfume
Sirius the Jaeger
Struggle: The Life and Lost Art of Szukalski
Tales by Light: Season 3
December 23
Room
December 24
Hi Score Girl
December 25
Avengers: Infinity War
December 26
Alexa & Katie: Season 2
You
December 28
Instant Hotel
Murder Mountain
Selection Day
When Angels Sleep
Yummy Mummies
December 29
Eating Animals
December (undated)
Watership Down: Limited Series
Last Call
December 1
Bones: Seasons 1-7
Gone Girl
Hidden Figures
December 12
Disney's Moana
December 31
Bob's Burgers: Seasons 1-7
New Girl: Seasons 1-6