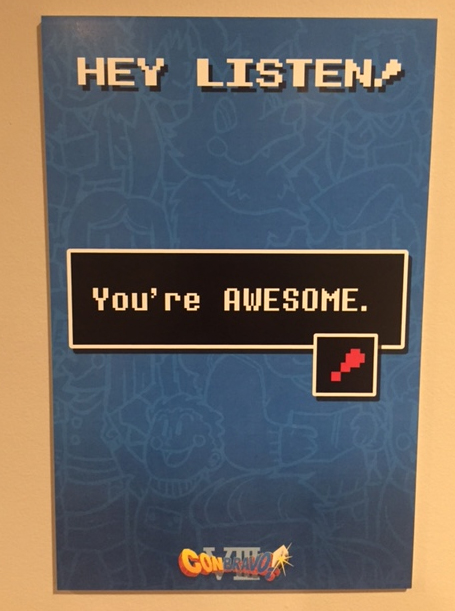 Hamilton's Con Bravo might be the best kept secret in the world of Canadian conventions. While Fan Expo may have the numbers, there is something to be said about a smaller convention such as this.
Con Bravo has a more personable atmosphere than the larger conventions. Rather than relying on superstar celebrity panels, this con relies on more intimate and interactive panels. Read on to find out more about what Con Bravo has to offer. If you want the full deets, click here.
D20 Live
RPG (Role Playing Game) fans were treated to a panel hosted by the D20 Live team. The YouTubers offered their fellow RPG enthusiasts some tips on how to up their, well, game! Some memorable tips include "If you don't like what's written on the page, change it…. it's gaming, it will be different from what the creator intends."
The D20 Live team was referring to modules, rough templates used by gamers as launching pads for their own inventive adventures.
The team also teased their upcoming December live streams as the best "worst" thing they've ever done.
The audience was then treated to a live, interactive RPG-style story. The D20 team and the audience ended up creating a murder-mystery starring Charlotte, a female wizard who can magically conjure spiders. Charlotte's ex-boyfriend, a half-orc, was murdered by an alchemist. Thanks to her "Lavalantulas" (flaming spiders), Charlotte destroyed the alchemist-killer and avenges her ex. The story even ends on a cliffhanger, with Charlotte stealing a Jade spider from the alchemist's house. What will become of Charlotte and the spider? You'll just have to come back next year!
Super Feud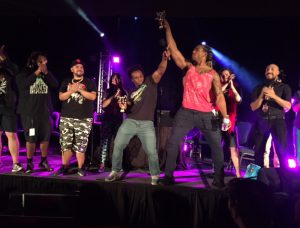 It was a battle for the ages. Four teams of comprised of online nerd/geek entrepreneurs faced off to defend their honor. Team Four Star. Arcadea. The God Emperors. Kawaii Muscle. Were they to joust? Were they to run? Were they to match wits? Nah bro, let's play Mario Party to an audience of hundreds in a ballroom with chandeliers.
It's true! For nearly two hours, the four teams rotated one player per turn in a four-way game of Mario Party. The trash talk matched that of a WWE match, with the audience really getting into it. In the end, it was Kawaii Muscle who emerged victorious. They celebrated, naturally, by removing their shirts and showing off their muscles.
You can check out all the photos below! Have you been to Con Bravo? If not, what do you make of it so far? Tell us in the comments. Photos and article by Yanis Khamsi