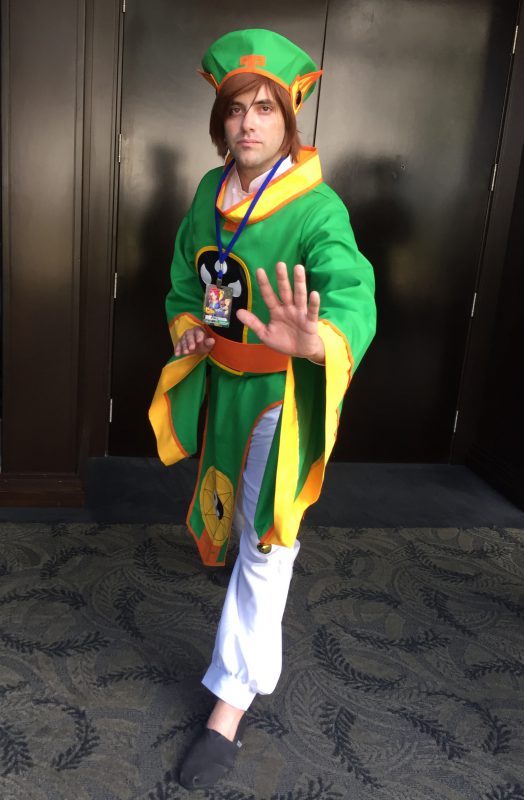 The third and final day of Con Bravo was more low key than the previous two days, but just as memorable and charming. What Con Bravo lacks in super star autograph signings, it more than makes up for with intimacy. Whether it's Cosplay for a Cure, intimate panels or groups of cosplayers greeting each other, it really feels like a community.
Lewis Lovhaug
The king of comic book nerds hosted a panel for his loyal subjects.
Lewis, a.k.a. Linkara, is known for his series, History of Power Rangers, where he spends upwards of 30 minutes breaking down an entire season of Power Rangers. He told the panel he's signed a contract with Saban, the company that owns the franchise. This contract stipulates that Lewis cannot review a season of Power Rangers until the season is available for home consumption on Blu-ray, DVD or other methods. It also states that only official footage from Saban can be used in Lewis' reviews.
The Power Rangers In Space episode will be released this December.
On a more personal, and far less nerdy note, Lewis told the panel he would be getting married later this year. He also sang Weird Al Yankovic's version of "Happy Birthday" to an audience member celebrating his birthday at Con Bravo.
While Linkara is pedantic and annoying, Lewis Lovhaug is as warm and charismatic as they come.
Cosplay for a Cure 
Conventions are a great way to spend downtime, and Con Bravo is no exception. Everywhere you go it's fun, friends and food. And let's not forget the unforgettable cosplays! But sometimes conventions can go above and beyond, and host Cosplay for a Cure. Cosplayers lined up to pay $2 in exchange for a professional photo of themselves. All proceeds go towards breast cancer awareness.
The Expanding Potterverse
Fans of the Harry Potter franchise were treated to a panel hosted by yours truly! We discussed Jude Law being cast to play a young Albus Dumbledore in the upcoming sequel to Fantastic Beasts and Where to Find Them. The general consensus was the charismatic Jude Law has the potential to deliver a great performance if the quality of writing is there.
We also discussed our favorite books/movies, with many in the audience agreeing that Harry Potter and the Philosopher's Stone and Harry Potter and the Prisoner of Azkaban were the best, while Harry Potter and the Chamber of Secrets and Harry Potter and the Order of the Phoenix were the least great movies/books in the series. Naturally, we joked about Dumbledore's delivery of "Did you put your name in the Goblet of Fire?" in Harry Potter and the Goblet of Fire.
And there you have it folks! Con Bravo was a wonderful experience, with a unique sense intimacy and personability. Be sure to follow Con Bravo on Twitter, and stay tuned for the 2018 convention, it's something you and your convention-loving loved ones won't want to miss. ~Photos and article by Yanis Khamsi