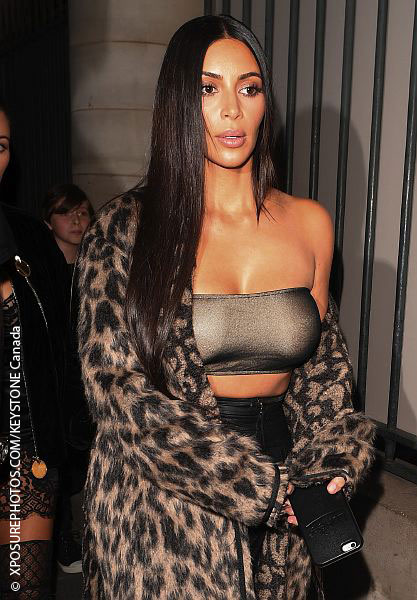 The concierge who was allegedly forced to break into Kim Kardashian's Paris hotel room has now opened up about being held at gunpoint, describing in harrowing detail what exactly happened to him and the reality star.
In an interview with the Daily Mail on October 18, the concierge, who asked to only be revealed by his first name — Abdulrahman, said the ordeal began at about 2:35 a.m. on October 3 when he let three men dressed as police officers into the lobby.
"In the first seconds, I thought they were policemen making an arrest," he recalled. "I told them, I'm working here, what is wrong? After that he questioned me, 'Where is the security video?' At that time, I knew it was a robbery."
He said the robbers then violently forced him to the ground and handcuffed him, asking which room "the wife of the rapper" was staying in. In an attempt to stall them, Abdulrahman pretended to not know who they were talking about. Eventually succumbing to their demands, he divulged Kim's whereabouts, and as they forced him onto an elevator, he begged the men not to hurt her.
"I went up to the apartment with the robbers. I was tied up in the first minutes, with handcuffs," he recalled. "I was in the room of Kim Kardashian."
"We got to her bedroom and slid open the door. She was in her bed. Before we opened the door, she heard a noise and began to say, 'Hello? Hello?' I assume she thought it was her sister. The intonation of her voice changed when there was no answer. I felt she was worried. After that, one of them opened the door. The other one was fastened to me."
This is when Abdulrahman said the robbers pulled the reality star — who he claimed was in a white bathrobe — out of her bed.
"He attacked her, holding his gun in her face. She was crying, she was screaming, saying, 'Don't kill me, I have babies, Don't kill me, please, I have babies! I'm a mom! Take whatever you want!' She seemed terrified," he said.
The concierge claimed he repeatedly asked the robbers not to hurt Kim, but they assured him that they were only there for money, and that if they kept quiet, everything would be OK. However, despite Abdulrahman acting as an interpreter, Kim continued to scream.
"One of the gang kept telling her to shut up. I put my hand on her shoulder and told her to be calm. I said, 'You have to be silent, you know.' She sat down on the bed. She asked me, 'Are we going to die?' I said, 'I don't know, how can I know?,'" he continued.  "She said, 'I have family and babies.' I told her, 'Me too, I have one son.' And she began to scream again."
The thieves then put "a long piece of tape" on Kim's mouth, bound her hands and feet, and placed her in the bathroom. It was then that the reality star's bodyguard, Pascal Duvier, called her Blackberry.
"I saw his name on the screen and I told them, 'You know who is ringing now? It is her bodyguard. If she doesn't answer, he will come here with the police,'" Abdulrahman claimed. "They ran immediately."
According to the concierge, the robbers then tied him up in a stairwell, where he waited about five minutes before Duvier appeared, helping to free him and Kim.
"When she left, she hugged me and I told her, 'The most important thing is that we are safe and we are alive.'"
The robbers, who made away with almost $15 million worth of jewelry, including Kim's engagement ring from husband Kanye West, are still at large.
Kim has remained mostly hidden from the public eye (and social media) since the frightening experience, only being spotted by paparazzi once in New York earlier this month before retreating to her Los Angeles home.
"She's not doing that well," her sister Khloe Kardashian told Ellen DeGeneres in an interview last week.  "It's incredibly traumatic what happened to her, but our family is super close and great and we'll get through it together." ~Shelby Morton