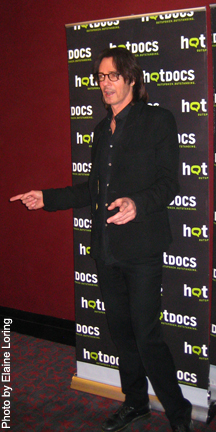 "It's about connection. I used to think it was all about me." That's the word from Rick Springfield, best known for his popular song 'Jessie's Girl' and for selling 19 million records back in the '80s.
Last night, Canadian movie fans got their first look at An Affair of the Heart, a documentary devoted to the life of the talented singer/songwriter/musician. The 70-minute behind-the-scenes concert film was screened at Toronto's Bloor Cinema as part of the Hot Docs Festival. Springfield made the trek to town along with director Sylvia Caminer and several female fans, known as the Rickaholics who are heavily featured in the flick. Their obsessive addiction to the rocker has them travelling hundreds of miles, multiple times each year for a Rick fix.
The 50-something swooners say they follow Springfield because he makes them happy. He simply states, "I was always committed to the music and I've been able to wrestle it to the ground and make it work. To the fans, I'm here because of you." Earlier this month, An Affair of the Heart won awards at both the Nashville and Florida Film Festivals. So far, no theatrical release date has been set, but several companies are vying for the distribution rights.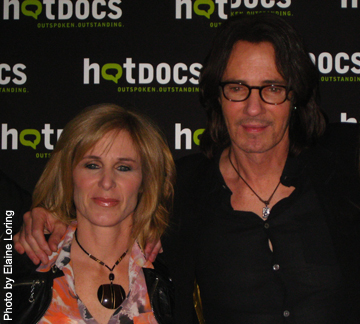 Following the screening, Springfield along with other cast and crew members took part in a Q & A with the audience.  Director Caminer told the crowd, "It's a real honor to be at Hot Docs. This festival has been on my radar for years. I had the pleasure of working with Rick, getting to know him and his work and the relationship he has with his fans, which is a beautiful thing."
Executive producer Melanie Lentz-Janney addressed the audience, gushing, "I just have to tell you guys, if you have a dream, grab the ring and go for it because it's the coolest experience to do it!"
Springfield himself, exhausted from his travel and touring schedule, asked his co-workers, "Can I go to bed soon?" A fan shouted out to him, "When I read your book, (Late, Late at Night), I was mad at you for two months. You had sex with everyone in the '80s but me!" She got a huge laugh. Springfield quipped, "We could change that tonight." The panel's moderator asked if the fan was actually posing a question or just wondering if tonight's the night? Springfield responded, "I think it was a proposition," then sighed and said of his many infidelities, "I was mad at me too."
The documentary and his autobiography delve into Springfield's lifelong battle with depression, an entity he refers to as The Darkness or Mr. D. "I made him a third person," he explains. "It hasn't been a smooth ride, and I've dug most of those potholes."
As for the recent success of the film, Springfield says, "I thought it was going to be a puff piece actually, but I've never seen anything like it in a rock documentary ever."
An Affair of the Heart will screen again Thursday May 3rd at 6:30 p.m. at the Cumberland 3. ~Elaine Loring