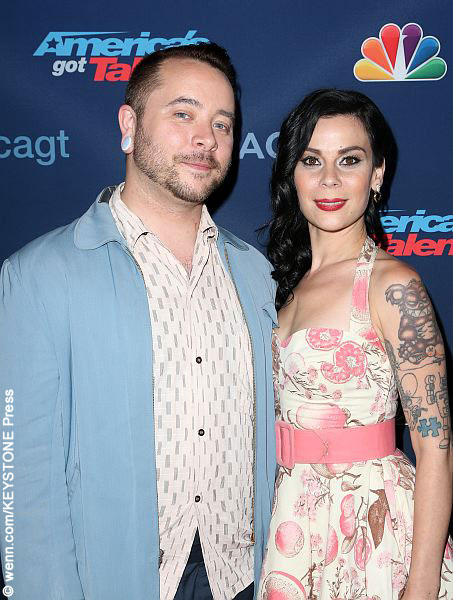 During last night's live broadcast of the talent competition show America's Got Talent, sword swallower Ryan Stock was performing onstage with his partner, AmberLynn Walker.
After successfully swallowing a curved sword and an arrow, Ryan swallowed a brass lamp stand with a bulls eye on the bottom. Meanwhile, AmberLynn climbed a ladder holding a crossbow with a flaming arrow, which was supposed to hit the target, but instead hit Ryan in the neck.
With the pointed stick still down his throat, he scrambled to put the fire out, then removed the stick, but appeared to be in pain, gasping and gagging.
As he was talking to the judges a few minutes later, there was a round pink discoloration on his neck. Although he assured judge Howie Mandel, telling him he was fine, Mandel wasn't buying it. He asked, "I would imagine after we finish judging, you are going right to an EMT, am I correct?"
"No," Ryan replied.
Howie insisted Ryan be seen by paramedics and when it was Simon Cowell's turn to comment on the act, he refused, saying Ryan should be immediately seen by medical personnel.
Ryan, who is from Edmonton, addressed the incident on Twitter, saying they'd had "a serious mishap," but "I am very fortunate to walk away from it."
We had a serious mishap tonight outage live on @nbcagt. A very unfortunate mechanical failure but I am very fortunate to walk away from it.

— Ryan Stock (@comedydaredevil) August 3, 2016