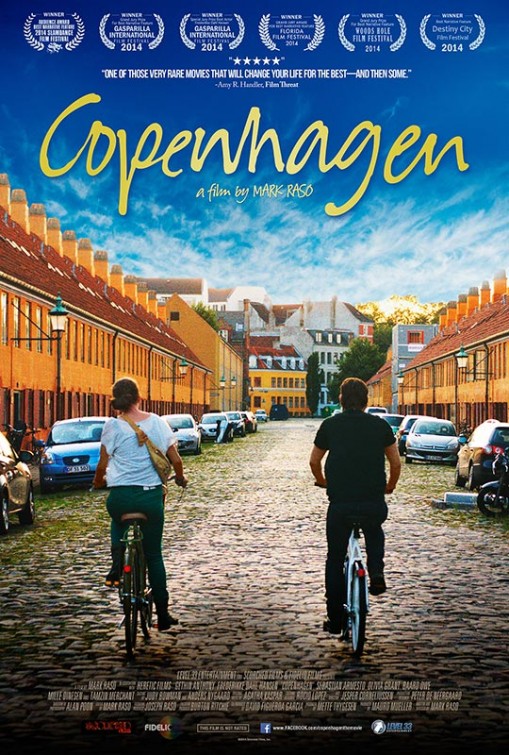 Toronto-based director Mark Raso has had great success with his debut feature film Copenhagen, about a man named William, played by Game of Thrones' Gethin Anthony, who goes to Denmark to find his grandfather and forms a strong bond with a young girl named Effy, played by Frederikke Dahl Hansen. The film got rave reviews when it debuted at the Slamdance Film Festival, and critics were impressed by Raso's decision to include a relationship between an older man and an underage girl.
We sat down with the director while he was promoting his film in Toronto to discuss the unique experience of filming in Copenhagen, his changing perspective of fatherhood and the "MacGuffin" of it all. Copenhagen is available to download on iTunes and is opening in select Toronto cinemas December 5. ~Kelly Townsend
This is your first feature film. You've done a lot of shorts, but was there anything about the filmmaking process that surprised you compared to a short film?
Good question. What actually surprised me was that it went easier as it went along. I was not expecting that. The longest short I have ever done was an eight-day shoot and when we got to about nine to 10 days on the feature I felt like I'd really started hitting a groove and things got easier and easier as they went along. It was a pleasant surprise, really. I'm not sure if that's the answer you're looking for but to be 100 per cent honest it wasn't that much different in terms of my preparation. Everything's just on a bigger scale. I really put a lot of focus on my shorts and treated them as if they were features so that one day I would be ready to take on a feature film.
It shows – you won a Student Academy Award for your short Under. You won that just before you started filming Copenhagen, right?
Yeah, I won the award six weeks before we started filming.
Did that add any pressure to the film? Did you think that was going to increase expectations?
It didn't add pressure, but it added a lot of value to the film, suddenly, with that award. We used it to get a lot of sponsorship, to secure more financing for the film. I guess, internally, there's always pressure on a filmmaker, but we were fortunate that it was such a small project. When we went into it we weren't sure if anyone would ever see it, so we were there really just trying to have a fun time. Make a film, do the best we can and not worry about anything else.
How did you decide to base the film in Copenhagen?
I had lived in Copenhagen for a year. My wife is from there. She was my girlfriend at the time, so I followed her there and fell in love with the city. I got the idea for the guy meets girl pretty much based on the youthfulness of the country. I wrote the film when I was at Columbia University, which I went to right after I lived in Copenhagen, in the film program. I had the script, but I didn't quite feel it was there yet, I wasn't going to do it. I started examining the aspects of why we do the things we do, where we come from, basically looking at our lineage and the cyclical nature of us following our parents' footsteps both good and bad. When I started examining that in my own life and really thought there's something here that the film needs, I put that in the script. Once that solidified I got really excited about the project and wanted to do it.
One thing I thought was really interesting about the story was that you subverted the narrative of finding a long-lost grandfather. Not to give anything away to the readers, but it's not the direction that you expect it to go. Did you go into the film with that intention?
Yeah. The plot is a guy goes to Denmark to find his grandfather, but that's not what the story is really about. I wanted to focus on what the story is about, which is about a guy shedding the burdens of his past and learning to grow up. It's about a boy becoming a man and in order for that to happen we needed that 24 hours in Copenhagen with young Effy and he needed to learn and grow from that experience. I kind of knew that, what did Hitchcock call it, the MacGuffin? [laughs] It's there, but that's not what the story is about, the story is about him growing up on that journey. It was thought out beforehand and we do pay it off, we pay off finding the grandfather, but that's not what the story is about.
Even in the pay off, it's not the pay off that you're looking for. It's a very awkward and uncomfortable scene, but for me that seemed like how it was supposed to be.
It's interesting because the first time you write that scene you probably write it like you've seen it a thousand times and it just feels so wrong. You're like, no, that's not what's going to happen, he's not going to invite him in for coffee, they're not going to chat. So when I got to where the scene is in the film, it felt right. It felt like this is what's going to happen and I like because we haven't seen that before, at least I haven't seen that before. It feels real.
One image that stuck with me was the Pacifier Tree. I looked it up and toddlers are supposed to hang their pacifiers on there as a sign of growing up. I thought it was a great visual component of Will's stunted growth.
That's exactly what it's meant to be. When I saw it for the first time walking in that park I was blown away and I asked my wife what it was and she said, "Yeah, when you're a kid you come and you hang your pacifier here when you're ready to let go of it and grow up," and I thought that would be great. He's still a boy; he hasn't grown up and for him to come in contact with the tree is symbolism, and I'm glad you looked into it because a lot of people don't really know what it means, but I hope that on some emotional level it will resonate in some way with audiences.
When Effy first meets William he's a jerk to her, whereas she goes out of her way to help him and she hides some of the uncomfortable, dark truths from him. What was her motivation?
As much as it's a story about William growing up, I also wanted it to be a story about her learning to be a kid again. We get a glimpse of her family life later in the film, we see her mother being very submissive to a kind of abusive boyfriend. We don't get too much into it, but the glimpse is there. To me, that was the motivation. It's the same kind of theme that William's going through. What Effy knows in terms of relationships is what she sees from her mother, being attracted to this kind of asshole, drunken guy that comes home late and, whether she knows it or not, that's kind of the path she's going down, she's going to emulate that. And that's the initial attraction to William; this is someone her mother would be interested in, more or less. Near the end of the film Effy has a scene with her stepfather where she kind of ends that relationship, [which shows] that she's also grown and will not follow in the same footsteps.
The scene in the hotel room near the end, how tense was it to film that?
It was very intense. For the most part we cleared the room and we were in there and [Frederikke] has this great ability, she did it in the auditions as well, she's such a powerful actress that she physically changes energy in the room. You could feel the room getting hotter and it was honestly the most intense scene I've ever filmed. We shot a lot, we shot about 10 or 11 takes, but I give her a lot of credit because William's off-screen and she carries that scene and puts us in his head quite nicely.
I've read a few reviews and critics said they thought you were taking a big risk taking on that taboo topic of underage relationships. Going into it, did you think it was a big risk?
Going into it I was aware that it could be risky. If you look at something like Lost in Translation, there's the relationship between the younger girl and the older man that obviously doesn't get sexual. I felt like, obviously this is very different and there's certainly a Lolita aspect to Copenhagen, but I felt like we were handling it in such a way that wasn't exploitative at all. It felt very natural; it felt very normal and we weren't setting out to shock people or purposely make people uncomfortable; we were trying to tell a story about two souls that connect in a certain way and they either can or can't be with each other because of their age. [laughing]
Do you have any fun or interesting stories from the Copenhagen set?
It was a microbudget film, so we only had two production vehicles. When you got off the plane everyone got a bicycle and that's how we did our location changes, which was really great. We would recycle water bottles we were drinking and the money we would get out of it would go back to the budget. I think we got something like $500 that way. It was really bare minimum, no permits, shooting on the street. One night we shot, which was a mistake, on a Thursday, which we thought would be okay. It was the scene where the two guys fight. Literally we were stopping every two minutes with drunk Danish teens running up to the camera. [laughs] I should collect it all and put it on YouTube to embarrass them. But, in general, the people of Copenhagen opened their arms; it was super low budget, super fun, we were all on bikes.
Your brother is billed as an executive producer. How was working with your family member?
It's great, we've worked together for a long time. He's really a great sounding board and he's quite a successful writer as well. He does more television, he did a show here in Canada called Seeds that was on for a couple years and now he's doing stuff in the U.S. Even though I'm more into film and he's more into TV, the most important aspect of the relationship is the trust. The fact that we can throw ideas off each other and get an honest answer and not have to worry about ulterior motives, which is really, really great.
On the topic of family, you're a new father. How has that shaped your idea of fatherhood?
Being a father is fantastic and a lot of this film was about knowing I wanted to go on that journey in my life and try to become a better parent and, in order to do that, understanding where my parents or my grandparents came from when they were trying to raise me. Kind of preemptively correcting some of the mistakes they made so I don't pass it on to my son. I have to say, since he's been born, every day is great, it's been wonderful.
Do you have any upcoming projects?
There's quite a few projects. I'm always very reluctant to get into details because of the nature of the business, things come together and fall apart so quickly. The success of Copenhagen has been really tremendous for my career, so I've managed to attach myself to some very exciting projects. We're aiming to get them off the ground very soon so I have a lot of confidence I'll be making something in 2015 and hopefully we can be doing this again in a year or so.