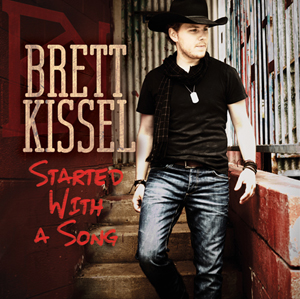 Started With A Song, the major label debut album from Warner Music Canada country music recording artist Brett Kissel, releases today. The first single and title track is currently the most played Canadian country song at radio, and is No. 5 on the BDS Country chart this week. Brett is one of only five artists to have their debut single reach the top five on the Country chart since BDS began monitoring airplay in 1996, and the first in five years. Upon its release in June, Started With A Song made radio history. With more than 93 per cent of Canadian Country stations adding the single, Started With A Song eclipsed the record for most adds at Country radio in one week, a record previously held by Taylor Swift.
The album is an exhilarating collection of music: each song a slice of real-life sentiment; emotional touchstones that run the gamut of highs and lows and explore such subjects as deep love, trying moments and poignant reflection, measured out by party anthems and a sense that something special is happening here with Brett Kissel.
Kissel, who became the youngest Canadian Country Music Association Awards nominee in history in 2006 at age 15, performed at the 2013 CCMA Awards Legends Show from Edmonton. The 23-year-old singer from Flat Lake, Alberta, will tour extensively throughout the rest of the year, with a slew of headlining shows across Canada. You can download Started With A Song by clicking here.
Track list:
1. Started With A Song
2. Tough People Do
3. 3-2-1
4. Something You Just Don't Forget
5. Raise Your Glass
6. Country In My Blood
7. My Cowgirl
8. Girl In A Cowboy Hat
9. Canadian Kid
10. Together (Grandma & Grandpa's Song)

Upcoming tour dates:
October 6 – Josephburg, AB – Moyer Recreational Centre
October 19 – Moose Jaw, SK – Mae Wilson Theatre
November 8 – Nanaimo, BC – Queens Hotel
November 9 – Campbell River, BC – Tidemark Theatre
November 16 – Edmonton – Shaw Conference Centre
November 23 – Regina, SK – Brandt Centre
December 6/7 – Neilburg, SK – Neilburg Community Hall