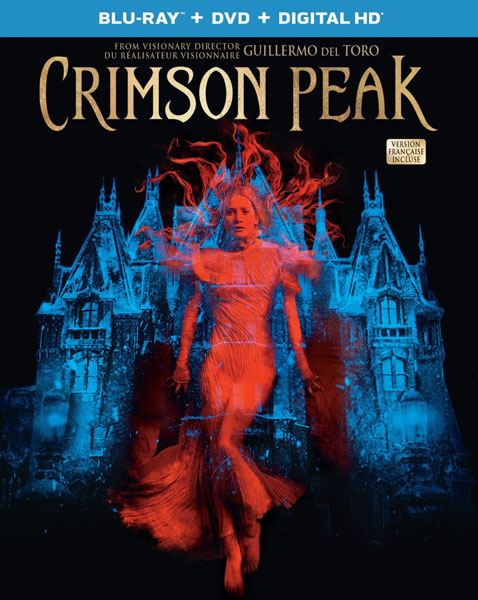 Despite the popularity of found footage style of horror films made popular by The Blair Witch Project (1999), Mexican-born director Guillermo del Toro intended his latest release, Crimson Peak, to be traditional. Crimson Peak is his homage to the horror films of his childhood: The Omen, The Shining and The Exorcist.
The director has created a visually lush and graphic (I had to turn away several times) film in Crimson Peak.
In 1887 Buffalo, Edith Cushing, the 10-year-old daughter of a rich businessman is visited by her mother's ghost who warns her to "beware of Crimson Peak." While it frightens her, she is perplexed.
Fourteen years later, Sir Thomas Sharpe (Tom Hiddleston) and his sister Lady Lucille Sharpe (Jessica Chastain) come to Buffalo looking for financial backing for a piece of equipment he has invented to dig the clay (more on that later) on his estate. Edith's father, who instantly dislikes Sharpe, turns him down.
Thomas pursues Edith (Mia Wasikowska) romantically, and while we can't be sure if he loves Edith, we know for certain he loves her money. Her father, who doesn't want Edith to see Sharpe, dies under mysterious circumstances and the two lovebirds are free to marry. Let's call this cliché number one.
The newlyweds and Lucille return to Allerdale Hall, the family estate in England, the very place her mother's ghost warned her not to visit (although to be fair, she doesn't know that yet). Let's call this cliché number two.
From the vibrant and rich colors of industrial America, and the lovely home the Cushings resided in, we are whisked to a dark, brooding and desolate England, and a decaying manor built on blood-red clay.
Things are not quite right. It snows inside through a large, gaping hole in the ceiling of the foyer. Butterflies and moths fly around and Edith is allowed neither a set of keys nor to enter certain rooms. Her sister-in-law acts distant and feeds her bitter tea. Let's count these as clichés three and four.
Ghosts begin to appear again. Edith is horrified when she learns the estate is named Crimson Peak, for the red clay seeping through the snow, and things begin to add up. Edith is pure goth, with flowing blond hair and wispy white night dresses. She begins to explore, carrying the requisite candelabra, even as she grows weaker, spitting up blood and becoming increasingly afraid. What number of clichés are we up to now? And yet, it is intriguing. What is the relationship between brother and sister? What is that blood red concoction brewing in those vats in the cellar? Is Edith being poisoned?
It is a simple plot and Del Toro would likely not disagree. But he could argue that he has created a period piece with an eye for detail. He's layered his tale with color and imagery, as well as rich characters and a haunted house that creaks and moans. He has employed the "Bluebeard" motif in Crimson Peak, a device used in film since the 1940s. It refers to a certain area in a house that has been forbidden to be entered or just closed off. This is not a new technique for him, because we saw it with the large basement in The Devil's Backbone.
In Crimson Peak, the forbidden lower level is a metaphor for Edith's restraint in the beginning but will prove to be a cathartic moment when the truth is revealed. I've since lost count of the clichés. But don't get me wrong. Clichés are okay when they work and they work here.
Crimson Peak was filmed in Toronto at the Pinewood Studios. It was also filmed on location in Hamilton and Kingston and two Canadian actors have small roles: Leslie Hope as Mrs. McMichael and Bruce Gray as Ferguson.
Charlie Hunnam, famous for having been cast as Christian Grey in Fifty Shades of Grey and then dropping out, has a significant part as Dr. Alan McMichael, friend to Edith. He might be a favorite of the director's as well. He also starred in Del Toro's Pacific Rim.
Not one to be typecast, the ever versatile Jessica Chastain (The Help, Zero Dark Thirty) not only filmed a role in Crimson Peak, but also starred in the 2015 blockbuster The Martian. Englishman Tom Hiddleston has a theatre background, but you may have caught notice of him in The Deep Blue Sea and War Horse after his breakout role as Loki in Thor. Top-billed Australian actress Mia Wasikowska must love the genre. She played Jane Eyre in 2011, which is similar in theme (mysterious mansion, mysterious man and a forbidden attic).
You have everything you could possibly want in this gothic fairy tale: closeups of crawling insects and faucets spewing blood red water, English top hats, and the obligatory funeral in the rain. There is a gruesome murder, creepy ghosts with appropriately bony and elongated fingers, and a perfectly rotting mausoleum masquerading as a home that oozes something from rotting floor boards. All this is set up against the protagonist Edith, so pale, so white, so naive, so ripe for the picking, but only for so long.
The Blu-ray & DVD combo pack includes Deleted Scenes and a Feature Commentary by the director himself so that what you didn't quite get can be revealed to you afterwards. Interestingly, it makes you appreciate the film more.
~Sharon Salsberg