Cruella: Emma Stone, Emma Thompson on their dark characters
By Marriska Fernandes on May 26, 2021 | Leave a Comment

Emma Stone and Emma Thompson talk Cruella
Disney is back at it, bringing back one of its most iconic villains, Cruella de Vil, to the big screen in Cruella. Emma Stone plays the budding Cruella de Vil when she was an aspiring fashion designer named Estella. Emma Thompson takes on the role of the hard-hearted Baroness von Hellman, the head of the prestigious fashion house that hires Estella. Both actors get to show off their dark sides in this wicked villain origin story set in the 1970s in London.
During a global press conference, Emma Thompson and Emma Stone sat down to talk to press virtually about their film. We also virtually chatted with Mark Strong, who plays John the Valet, and Kirby Howell-Baptiste, who plays Anita Darling. Scroll below for the interviews.
Creating Cruella and the Baroness
The film sees Thompson in a very different light. She is both fabulous and also a living nightmare. When asked what the process of creating a villain was like, Thompson joked: "Oh, well, you know, I drew on the life, obviously. Um, I mean, I think if my husband were in the room, he'd say, 'And no acting required, really.' I had such fun doing her, because I think I've been asking for quite a number of years if I could be a villain, a proper villain. And I spent decades playing what my mother used to call, 'Good women in frocks.'
"And now I got to play a really evil woman in frocks. But oh, boy, the frocks. I mean, they wore me, actually, really is what happened. I had just the best, best time. Every time Em and I would come on set, we'd just look at each other and walk around each other like we were sculptures or works of art or something, which we were. I mean, it was in a way, everyone created the Baroness, and then I sort of stepped in and just said the words."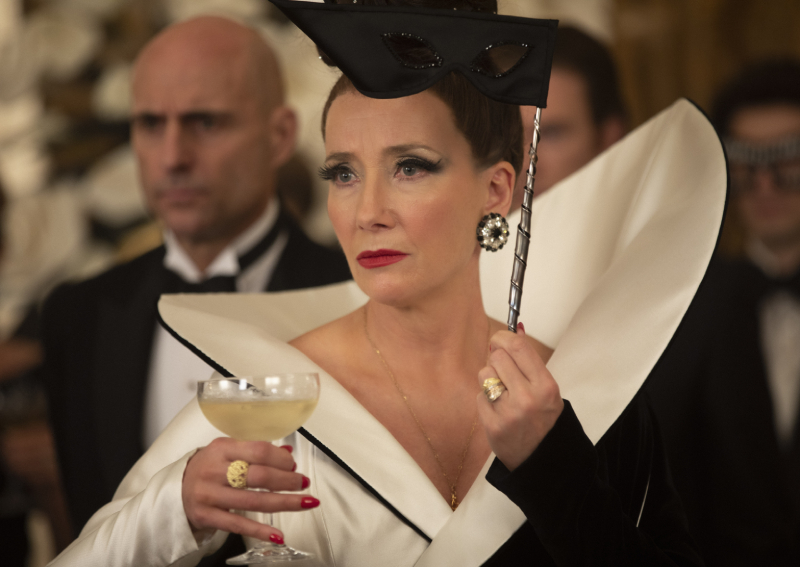 Thompson enjoyed playing the dark side of a character. "I am very interested in the dark side of a female character, because they're so rarely allowed to be dark. You know, we're all supposed to be nice and good, aren't we? And bad mothers are simply unforgivable. I mean, nobody can find words for the bad mother. And, so, you know, we don't know about where they've all come from and how they've developed, but the Baroness is just so single-minded, and she says this wonderful thing."
Thompson continued: "She says, 'If I hadn't been single-minded, I might have had to put my genius at the back of the drawer,' like so many other women of genius, who died without producing anything and without using their genius. And what did they do? And actually it is a very good point. So whilst I wouldn't necessarily walk that path, her commitment to her own creativity is rather admirable I think and difficult, probably."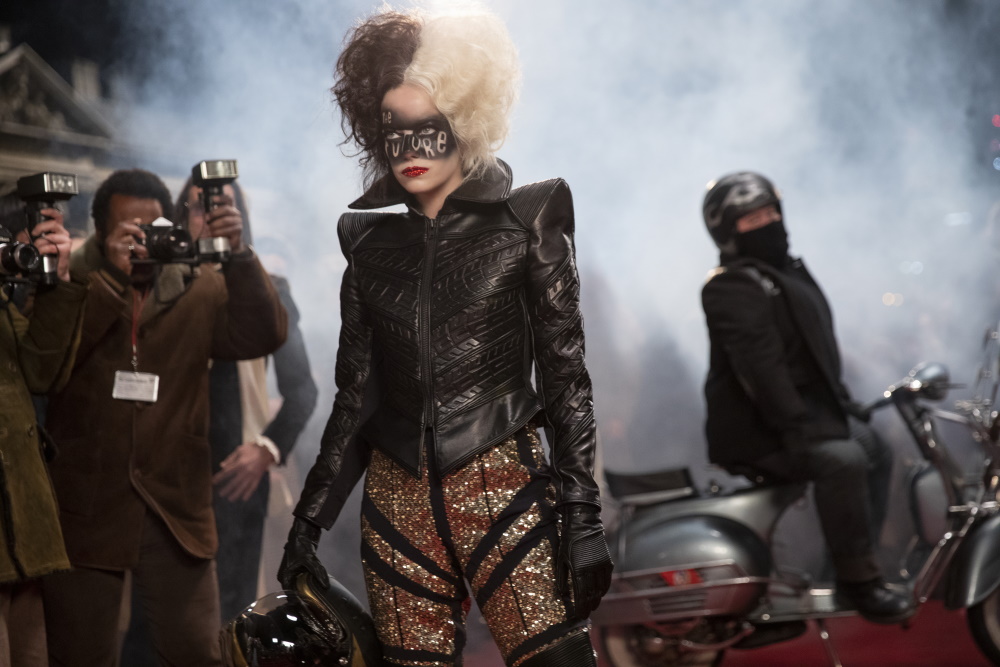 Emma Stone loved the animated 101 Dalmatians movie growing up. "I especially loved that the dogs looked like their owners. I always thought that was so funny. I remember as a kid trying to see if dogs did in fact look like their owners, and a lot of times, they do. I loved the cartoon. I thought Cruella was such a fun character."
Speaking on the process of bringing Cruella to life, she added: "It was a process of about four years and different writers and different things were brought to the table, and it really felt like we might not ever really make the movie of Cruella, because even though she's such a fun and interesting character, what world would we all want to explore her in that would really make sense and make a good film, that didn't feel shoehorned into this character.
"And I sort of think taking her and putting her in the '70s and as much as she is Cruella from 101 Dalmatians, she's not also, because you've taken this character and you've created this whole new story for her with fun nods to 101 Dalmatians, obviously, and all that. So I think once Craig and Tony came on board, it really started to kind of fly and get very exciting, and it was like, oh my God, we're making Cruella. It's unbelievable."
The Fashion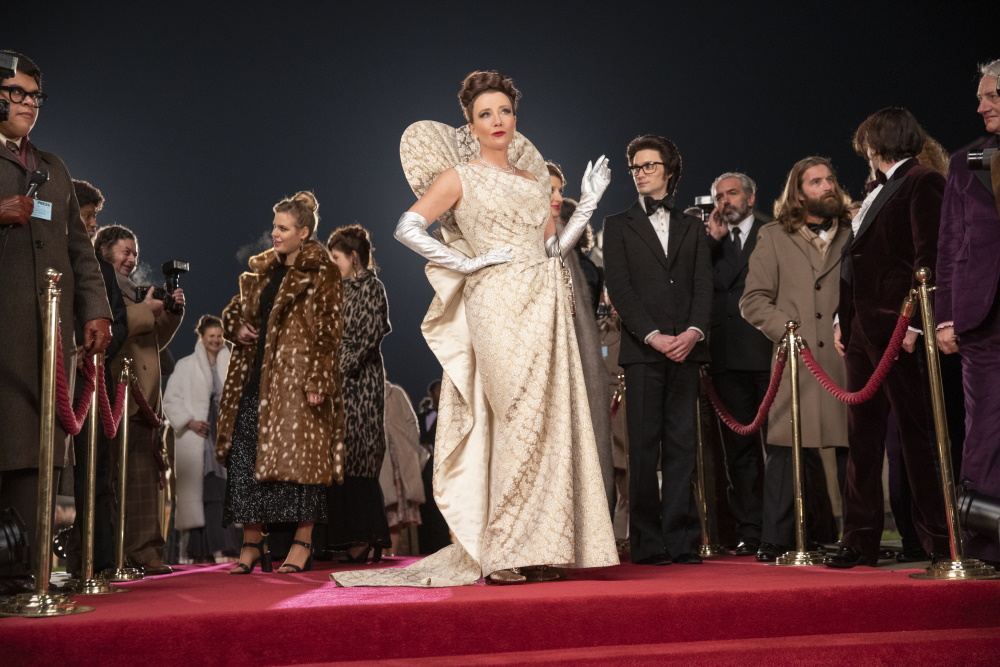 One of the elements that stand out is the epic and gorgeous costumes that are displayed throughout the film. When Thompson was asked about wearing the unbelievable creations and if she was allowed to sit or eat, she quipped: "No. I mean, my underwear was like a sort of ship's rigging. You know, there were people hauling on ropes. It was a lot. Peeing was hard, and involved a team of people. Also the shoes were a real challenge, because I don't wear anything higher than a flip flop, really, in real life.
"Also, I had wigs as well. So I was a great deal taller than I'm used to being. I used to have to move in and out of spaces sideways as well, and generally I had three dalmatians at my feet too. So, yeah, the underwear was a big ordeal, not for Stone, obviously, 'cause she's slender as a lily and didn't need to wear a corset like a frigging whalebone aria.
"And you know that she's not allowed to eat at the picnic because ladies aren't allowed to have appetites. Like the Baroness, who only eats a little bit of cucumber here and there, and you know, throws her rubbish out the window 'cause she's monstrous. But yeah, that was one of the things I really enjoyed hating about her, was the fact that she didn't eat. I don't trust people who don't eat. There, I've said it." Thank you for that, Thompson!
Stone jumped in to add: "That's one of my favorite moments too, when the Baroness throws the cloth napkin and the actual fork out of the window. It really made me laugh when we were shooting it. Every time she did it, it made me laugh."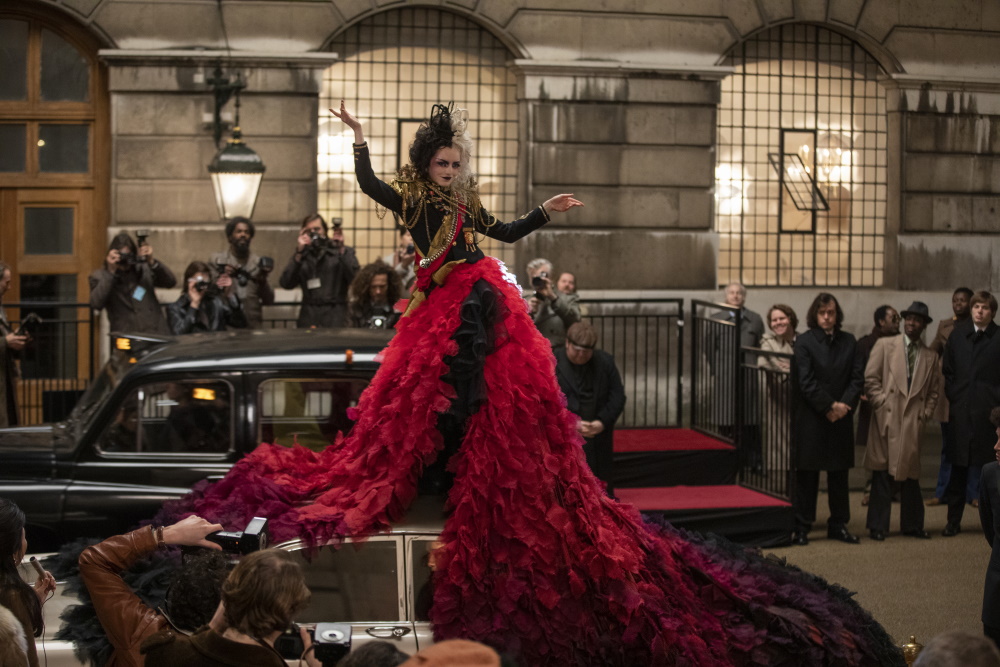 Stone also wore some pretty epic outfits thoughout the film. But which was her favorite that put her into the Cruella de Vil mindset? "My very, very favorite outfit that was absolutely ludicrous was the dress that I wear on the garbage truck, because there was a 40-foot train. And that wasn't attached to the dress, because obviously I wouldn't be able to move anywhere, so they added that onto the dress at the last minute when I get onto the garbage truck to shoot that part. And it was just… I mean, nothing you would ever be able to even remotely wear in real life. But to be honest, there was also that insane skirt when I cover the car. That was epic too. Trying to walk up onto a car and then cover an entire car with a switch of the skirt was just fantastic."
Mark Strong on playing the mysterious John the Valet
Kirby Howell-Baptiste on bringing to life Anita Darling
Disney's Cruella is in theaters and on Disney+ with Premier Access on May 28. ~Marriska Fernandes
---
---
---
Similar Articles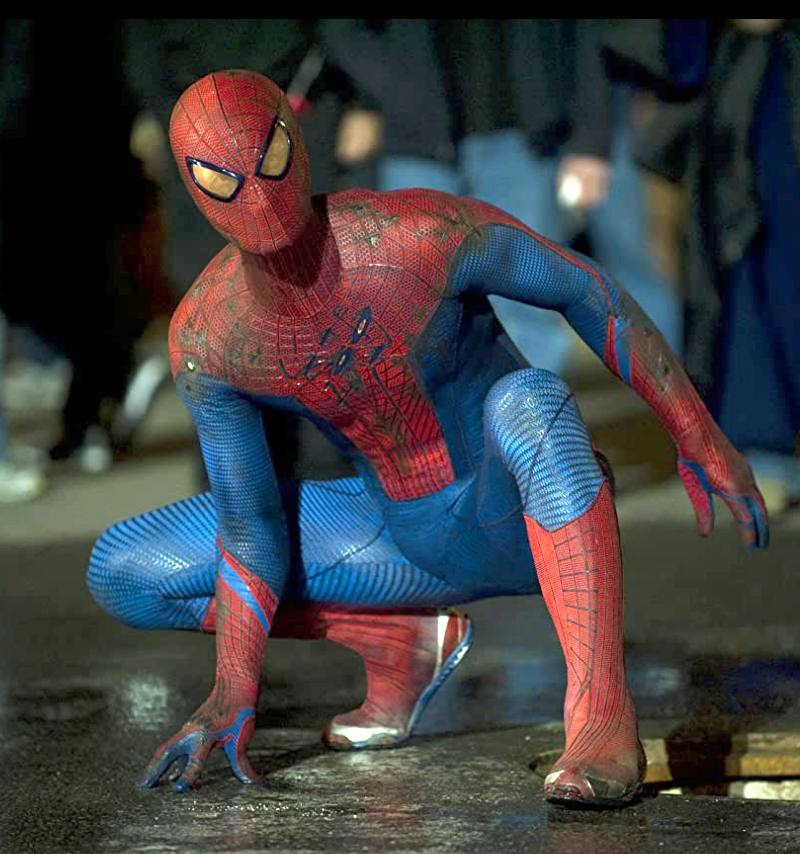 September 1, 2021 | 7 Comments
Research conducted over the past 12 months has discovered which of the three most recent Spider-Man stars are the favorite actors to play the iconic role.
---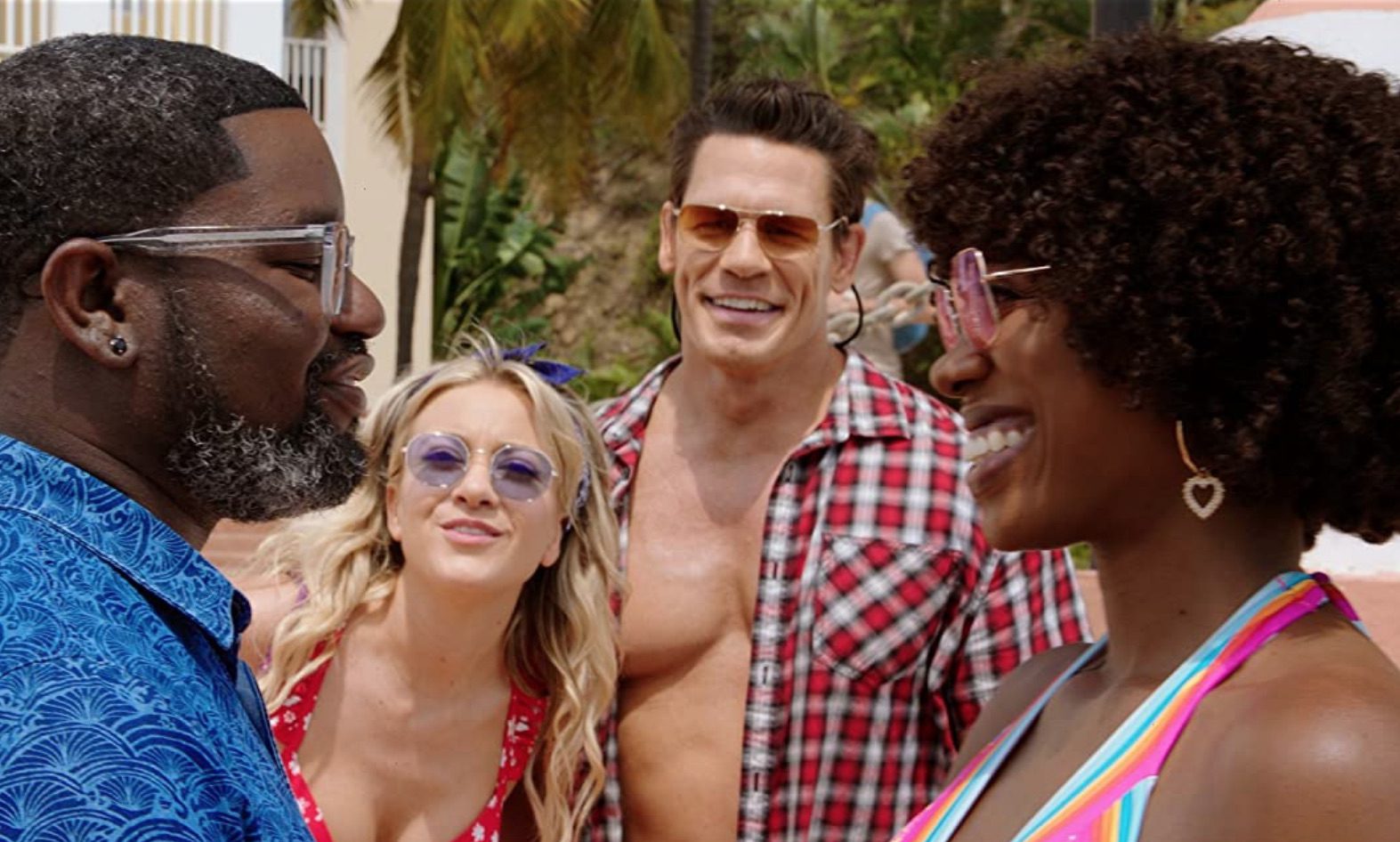 August 23, 2021 | Leave a Comment
This week, the comedy film Vacation Friends comes to Disney+, the remake He's All That comes to Netflix and more! Check out the full list of movies and series!
---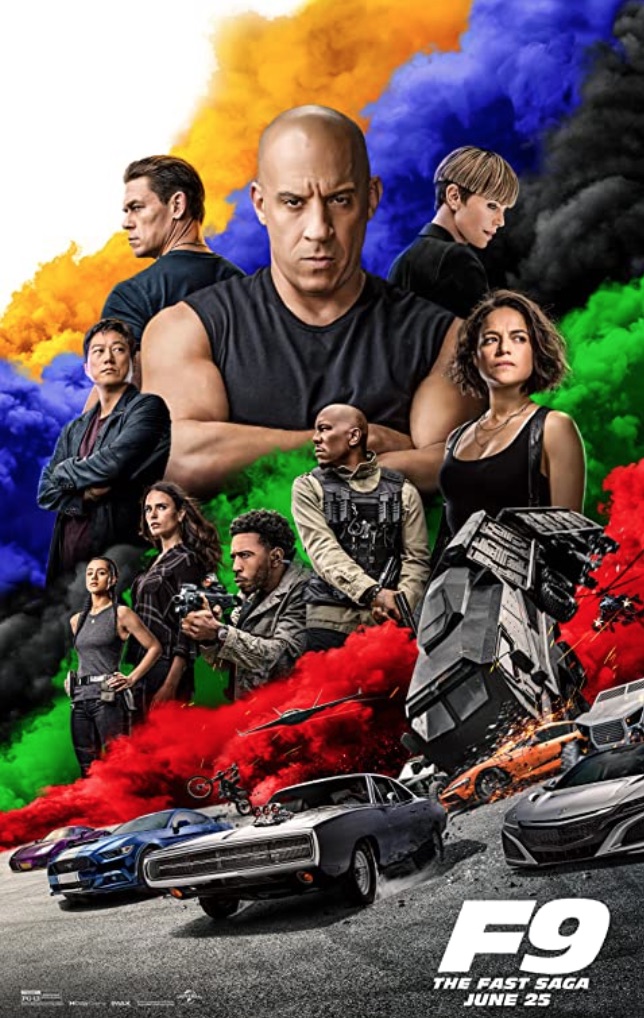 June 27, 2021 | 1 Comment
F9 overtook last weekend's The Hitman's Wife's Bodyguard and box office favourite A Quiet Place Part II to claim the top spot at the weekend box office.
---