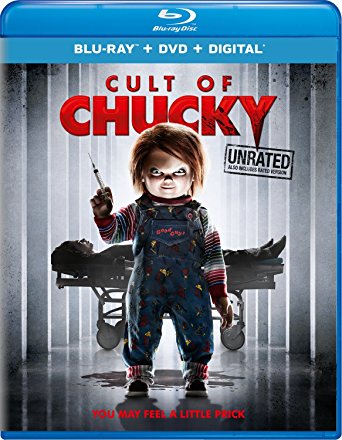 If you grew up watching the cult classic Child's Play, Chucky is a doll you will never forget. The red-haired, three-foot-tall psycho returns to scare fans with a blood-soaked vengeance in Cult of Chucky, and yes, his bride Tiffany (Jennifer Tilly) also makes an appearance.
The seventh film in the franchise picks up after the events of Curse of Chucky. Series creator Don Mancini once again directs and Brad Dourif returns to voice Chucky, while his real-life daughter Fiona Dourif returns to play Nica.
The story begins with Andy (Alex Vincent), who is on a first date that's not going well. If you remember, it's Andy from the first three Child's Play movies, whose babysitter was murdered, and Chucky was his doll. The revenge-driven adult clearly hasn't been dealing well with his past. Can we blame him?
We then see Nica, who survived the wrath of Chucky and is currently living in a mental hospital after being framed for Chucky's previous murder spree. Her psychotherapist, who doesn't have her best interests at heart, deems it necessary to bring a Good Guy doll for her recovery. Best. Therapist. Ever.
Obviously, Chucky is out for blood, and this time Nica is confined to the four walls of the hospital while being wheelchair bound. Or is she simply seeing hallucinations of a certain doll?
Fans will enjoy the deadpan humor that Chucky churns as he slices and dices his victims. The violent decapitations, the dark humor and bloodshed continue in equal measure. The plot, however, is unexpected.
The series has come a long way since its inception and while I didn't expect the twists and turns, I enjoyed the film like a true franchise faithful. The series is a cult classic and this time around, the bloodbath horror ends on a different note: is it an end or just the beginning of a new nightmare?
Cult of Chucky is now available on Blu-ray, DVD and is also streaming on Netflix. The Blu-ray has two Bonus Features: Inside the Insanity of Chucky, a behind-the-scenes look at the making of the film; and Good Guy Gone Bad: The Incarnations of Chucky, a brief look at the studio behind Chucky's puppeteering. Also included in the features is a commentary with series creator/director Don Mancini and head puppeteer Tony Gardner.
If you have seen the film and would like to rate/review it, click here. ~Marriska Fernandes