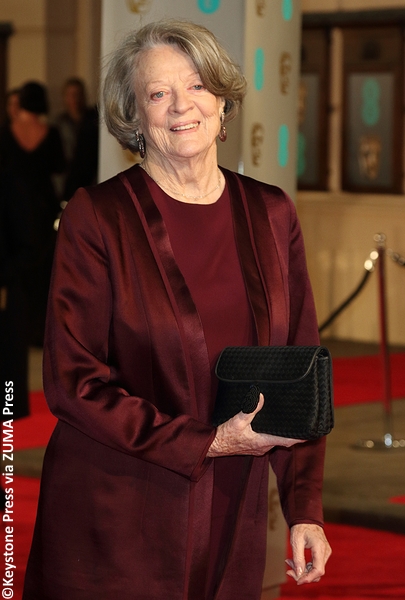 Just like her sharp-tongued character on Downton Abbey, Maggie Smith isn't a dame you want to trade jabs with.
On Sunday's Primetime Emmy broadcast, Dame Maggie was honored with the Best Supporting Actress in a Drama Series award for her role as the Dowager Countess Violet on the popular BBC period series, marking her fourth win and ninth nomination.
Unfortunately the Oscar winner couldn't be present for the ceremony, and before presenters Minnie Driver and Michael Weatherly could accept the award on her behalf, host Jimmy Kimmel seized the trophy and basically told the 81-year-old to come get it herself.
"No, no, no, no, no. We're not mailing this award to her. Maggie, if you want this it'll be in the lost and found," he joked.
Well, Dame Maggie has fired back at the funny man, and she's ready to collect her gold.
"I was very astonished and pleased to win the award. I feel the Emmys has been overly generous to me," she posted via the Masterpiece PBS Twitter account. "If Mr. Kimmel could please direct me to the lost and found office I will try and be on the next flight," the legendary actress wrote, signing the note "Old Maggie."
Although Maggie has been nominated for (and won) numerous Emmys, Golden Globes, and Oscars, she doesn't often attend award shows outside of the UK, something Jimmy made note of in his monologue.
"We have a new rule. This year for this first time ever, you must be present to win. If we call your name and you're not here to accept, the Emmy goes to the next name on the list. It's called the Maggie Smith Rule," he joked. "This year, she had a Sunday ceramics class she couldn't get out of."
What do you think about Maggie's response? Sound off below!
Dame #MaggieSmith graciously accepts her #Emmy award — @jimmykimmel, please advise on the location of the lost and found! #DowntonPBS pic.twitter.com/veQ6shRmxA

— Masterpiece PBS (@masterpiecepbs) September 19, 2016