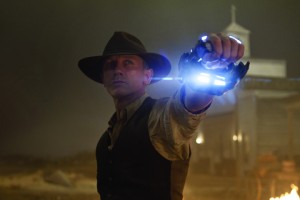 Don't let the cheesy title fool you. Pairing cowboys and aliens together in a movie might seem absurd, but when you throw in some of Hollywood's best actors, including Harrison Ford, Daniel Craig and Olivia Wilde, with producer Steven Spielberg and director Jon Favreau, you know you're in for a unique action/adventure story.
Based on a graphic novel from Scott Mitchell Rosenberg, Cowboys & Aliens opens with a wounded cowboy, Jake Lonergan (Craig), who, after waking up in the middle of the Arizona desert with a futuristic-looking shackle around his wrist, realizes he has no memory of who he is or how he got there. Lonergan's luck then goes from bad to worse when he saunters into a nearby pioneer town called Absolution and is quickly arrested for stealing from a powerful rancher.
Rancher Colonel Dolarhyde (Ford) plans on punishing Lonergan for his crime, but before justice is settled, a fleet of aliens invades Absolution, destroying the town and abducting some of its inhabitants. Turns out the shackle on Lonergan's wrist is a weapon with enough firepower to shoot down one of the spaceships. With this weapon, Lonergan teams up with Dolarhyde in a joint mission to protect Absolution and the surrounding desert from the menacing forces in the sky.
While some may scoff at the idea of bringing aliens into a 19th-century western setting, director Favreau (Iron Man) knew that action fans would only take the concept seriously if he delivered the fun, excitement and star power that they were hungry for. Executive producer Spielberg helped out Favreau by getting his close friend Ford to sign on for the adventure. "We never thought [Ford would] want to come back to [the action] genre," Favreau said at WonderCon. "To have him bring that pedigree, it's almost like when you cast John Wayne in a western." Cowboys & Aliens pays tribute to Ford's legacy as an action star by having him don a cowboy hat, similar to the one he wore when playing Indiana Jones.
Even Craig, who was cast as Lonergan after Robert Downey Jr. dropped out, found himself in awe of standing (and riding) next to one of his big-screen idols. "I've been a fan since I was a baby but then, you know, you've got [a] job to do," Craig told the L.A. Times. "And I hate to say it but [Ford's] a delight. Don't tell him I said that, though."Favreau also rounded up red-hot actress Wilde to play Ella, a prospector who teams up with the two cowboys on their quest and falls in love with Lonergan. Wilde, who at one point in the film strips nude for a couple hundred Apache Indians, showed off her physical mettle onset by doing many of her own stunts. "This movie has been so much fun for me," she told Fandango. "I got pulled off a galloping horse forty feet into the air. I have been able to run past explosions and really test my strength.
—Jordan Adler