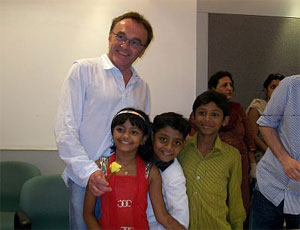 British filmmaker Danny Boyle has flown to Mumbai on a rescue mission to re-house the two child stars of Slumdog Millionaire. After hearing that the children's illegal slum homes have been bulldozed by the city authorities, Boyle has promised to do what he can to help find new apartments for the child stars Azhar Ismail, 10, and Rubina Ali, 9, in Mumbai, aside from a trust that has been set up to pay for the education and basic living expenses for them until they're 18. The amount of the trust has remained confidential for fear of exploitation.
Azhar Ismail will move into his new home in the next week and Rubina Ali's, 9, flat is said to be ready for her within 10 days. Boyle said: "When we saw the news stories that the kids' homes had been demolished it was of course a huge concern to us. We are here to meet members of the trust… and to accelerate the process of getting them re-housed. The best benefit that this film could ever give these kids is an education, and we are very proud that we have helped with that and that they have passed all their exams."
Boyle said he hoped that this would be the last time he had to answer questions on the subject and was confident that Azhar and Rubina's lives would soon be back on track.
But Rubina Ali's father (who has been accused of trying to sell her) still claims the filmmakers have not given them enough. Ali said: "It's no big deal for them, this kind of money. It's been five or six months we've been living in such difficulty. They should help us," he said in an interview after he cut the meeting short in anger.