Danny Collins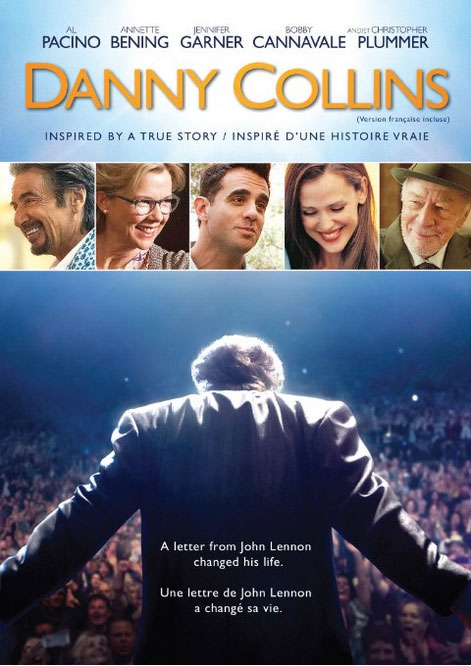 had a limited release and not much buzz when it hit theaters and that's a shame. This heartfelt drama grabs the viewer from the first frame and doesn't let go until the very last second – literally.
Al Pacino playing aging rock star Danny Collins. Danny can still fill a stadium, despite his cheesy songs and the fact that his audience, who grew up with him, are in their sixties and seventies.
It's not until his manager Frank (Christopher Plummer) gifts him with a letter written by John Lennon that he found on eBay, that Danny realizes he's been a sellout for most of his career. You see, the letter was meant for him.
John wrote the letter right after Danny's first big magazine interview, when he was on the cusp of fame, and sent it in care of the editor of the magazine, who kept it. In the letter, John tells Danny to stay true to himself and to his music. He even gives him his phone number and invites Danny to call him.
The letter surprises Danny, and he realizes he's lived his life exactly the opposite of what John advised. He wonders how different things would have been had he received the letter when he was meant to. He decides to change his empty shell of a life.
He contacts a son he had out of wedlock, whom he's never met or tried to contact before. The meeting doesn't go well. Bobby Cannavale plays Danny's son, Tom Donnelly, who is angry at his father for his abandonment and wants nothing to do with him. But there's more to the story than that.
Tom, a hardworking blue collar worker, has a lot going on in his life and is conflicted, but at the same time, is a loving family man with a supportive wife (Jennifer Garner) and an adorable daughter. Cannavale does a great job of portraying the turmoil his character is going through, while still trying to be strong for his family – the husband and father Danny never was.
Annette Bening plays a hotel manager who's not a fan, which probably attracts Danny – it's the first time in years that he's made advances on a woman who's well out of her teens. Pacino plays his character with warmth, but also lets us see Danny's weaknesses and flaws. It's a multifaceted performance and one of Pacino's best in recent years.
All the actors are perfectly cast and play their roles flawlessly, but above all, kudos have to go to director/writer Dan Fogelman for this fascinating story. He has written movies such as Crazy, Stupid Love, Tangled and Fred Claus, but this is by far his best script to date. He also makes an outstanding directorial debut with this screenplay. The use of John Lennon songs, which actually relate to what's going on in the movie, is a nice touch.
At one point, close to the end of the film, I was afraid it was going to end, leaving some parts of the story unresolved. It's a rare occasion to want a movie to be longer than it is because you're enjoying it so much that you don't want it to end. If you enjoy intriguing dramas featuring interesting people, you'll find this movie very entertaining.
Bonus features on the DVD include Behind the Scenes of Danny Collins and Danny Collins – Album Covers Through the Years. The movie is now available on DVD and VOD. ~Alexandra Heilbron
We have five DVD copies of Danny Collins to give away. Tell us below which of the cast members is your favorite for a chance to win! Winners will be chosen on Tuesday, July 14.
Also available this week on Blu-ray/DVD: Woman in Gold, Survivor, Slow West, The Face of an Angel, October Gale and House of Cards: Season 3
Watch the Trailers:
Woman in Gold
'71
Survivor
Slow West
The Face of an Angel
October Gale
House of Cards: Season 3