Darwin's theory helps evolve an epic soundtrack by composer Christopher Young in "Creation"
By A A on January 20, 2010 | 1 Comment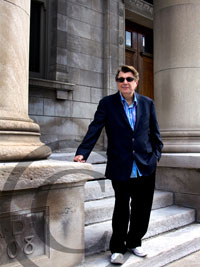 In the period piece and classic story of evolution, the new film "Creation" looks at Charles Darwin through a personal journey of marriage, loss of a daughter, and his struggle between science and religion. The film depicts Darwin's "creation" of one of the greatest scientific works to date, "On The Origin of Species".
Darwin is played by British film actor Paul Bettany (A Beautiful Mind, Wimbleton) who stars along side his real life partner, Jennifer Connelly (A Beautiful Mind, Blood Diamond, Requiem For A Dream) in their second film collaboration.
One of the most influential players in this film is not in front of the camera but rather behind it: musical composer Christopher Young. To date, Young has scored over 100 films with an impressive line up of pictures including: "When in Rome", "Spiderman 3", "Entrapment", "Copycat", "The Exorcism of Emily Rose", and his latest film, "Creation".
Young says he has been on a drama scoring kick lately. At one point, he seemed to be scoring primarily horror and thriller genres, but lately his career has taken a more dramatic direction as he collaborates with directors with whom he has previously worked.

For "Creation", Young re-partnered with highly acclaimed director, John Amiel (CopyCat, Entrapment) who understands the importance of musical scores in depicting highly stylized dramatic pieces. Young and Amiel extensively discussed the musical theme that would accompany each lead and subsequent story lines. For example, Darwin's angst and turmoil is represented by the cello motive. It's composed beautifully and plays an integral role in moving along Darwin's character storyline. An original piece of piano music was created for the daughter, Annie, who dies in flashbacks during the course of the film. And the string orchestra with violin solo was composed to represent the concept of Creation, and its meaning to Darwin's wife.
Making a score to accompany an epic drama such as this, required extensive teamwork with the director and film composer carefully crafting the link between on screen action and music. Without going over these important details, there was the possibility of misrepresenting the director's intended tone. Thus, Amiel met with Young to discuss the specific character motives, drives, wants, and needs. Young came away from these meetings with a crystal clear understanding of the emotive feelings which needed to be conveyed through his composition.
Over the course of three months Young created this epic score. He wrote from his LA studio, and recorded in both America and Bratislava, using several violin soloists who brought the stunning main theme to life. The violin solo can be heard from the beginning of the picture, and set the tone that Young says, "Needed to be established from the beginning in order for the audience to connect with the main theme of 'Creation'". The piano solo was composed with a Chopin theme in mind, and Jennifer Connelly faked playing these piano scenes. There was a fair amount of body music, which took about 55 minutes of spotted music with re-writes and additional music producing approximately 75 minutes of written score. Young explains, "There was a melancholy feeling to the music. It's written in minor keys, it's sad music and that's something John and I agreed would be best for the movie. There's not a lot of 'happiness' in the music."
That's not to say the entire story is tainted with sadness. There are touching themes which develop over the course of the film, such as the love between two individuals and love between families. Young goes on to say, "One of the main themes is the power of love".
Essentially this is a story of the turmoil that faces Charles Darwin; how he must make decisions that undermine his faith and beliefs. This is coupled with a profound depression brought on by the death of his daughter, which he attributes to mistakes he made in her medical treatment. Thus, there is sadness in every way, but by the end of the film, there is a theme of love and that life goes on. Darwin completes the book, "On the Origins of the Species" and his love for family and his wife conquers all.
Young faced the incredibility difficult challenge of scoring this film in a very short period of time, which he says is always the biggest challenge he faces when scoring a film. He executes it beautifully and flawlessly. The orchestra is powerful, the violin, piano, and cello solos are unique and stunning in their own right. If you ever have the fortunate chance to work along side a musical composer such as Christopher Young, jump at the opportunity.
Christopher Young took it upon himself several years ago to mentor talented composers and has set up an LA based studio for students to learn, in house, over the course of 4 months. One of his students, composer Kyle Wittlin, described Young as "the coolest and most endearing guy and it's clear why his career has flourished the way it has." You can get more information on studying under the tutelage of Christopher Young by visiting his website: http://www.officialchristopheryoung.com
Written by: Karis MacDougall
Photography by: Leib Kopman
---
---
---
---
Similar Articles
---
---