David Letterman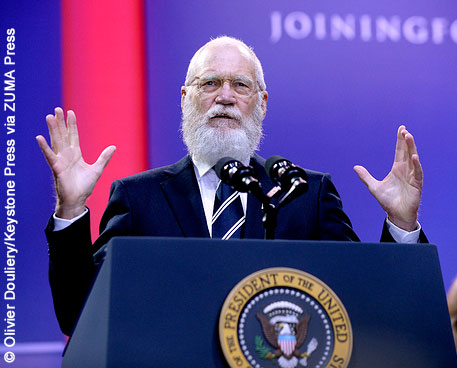 has cracked many jokes at the expense of politicians, but the former Late Show host isn't kidding when it comes to talking Donald Trump.
David, 69, initially appeared fairly neutral in his interview with Tom Brokaw for Dateline NBC's On Assignment. Discussing the presumptive Republican presidential nominee, David said, "I understand that he's repugnant to people. But…the men putting together the Constitution, witnessing this election, wouldn't they have just said, 'That's part of the way we set it up. Good luck'?"
He then shifted gears and offered his own opinion on Donald when he said, "There's nothing illegal going on. It's just he's despicable."
David added, "…you hear, 'the great thing about America is anybody can grow up to be President.' Ooh, jeez."
With a laugh, he then said, "I guess that might be true."
The David-Tom interview was conducted in David's hometown of Indianapolis over the Memorial Day weekend and will air on Sunday, June 12.
In the interview, David also shares his memories of the legendary Johnny Carson.
David joins a long list of celebrities who have voiced their distaste for Donald, including Sarah Silverman, Cher, J.K. Rowling and Johnny Depp, who came forward last month and said Donald would be the "last" President if elected.