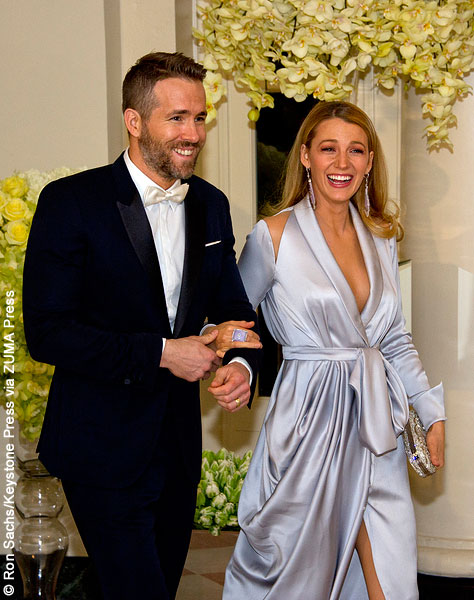 Not only was Deadpool 2 confirmed at this year's CinemaCon by 20th Century Fox, but star Ryan Reynolds and wife Blake Lively have announced that they are expecting a second child.
The two actors have a sixteen-month-old daughter named James. Ryan, 39, and Blake, 28, pictured here attending the State Dinner in honor of Prime Minister Justin Trudeau and his wife at the White House last month, have both said in the past they would like to have a big family. Blake previously told People.com: "I'm looking forward to how one baby influences the other, and to my family as a whole, to every single chapter."
Hopefully the new baby will be a good sleeper — in March 2015, Ryan joked: "Our baby, in particular, is, we think, allergic to sleep."
As for the Deadpool sequel, Ryan will of course be returning in the title role. Although no plot details were announced, Deadpool screenwriters Rhett Reese and Paul Wernick will be penning the new script and director Tim Miller will also be returning.
Meanwhile, the current Deadpool movie is still showing in theaters and has so far amassed a domestic total of $358,966,434.