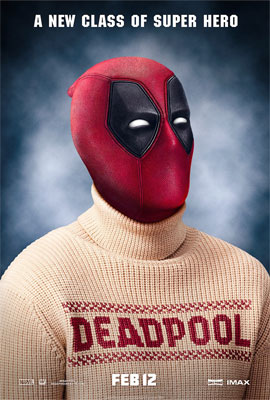 Ryan Reynolds may not be celebrating an Oscar victory tonight, but he and his Deadpool family have reason to rejoice. The antihero action film once again dominated the box office for the third consecutive weekend by hauling in $31.5 million, which makes its total a whopping $285.6 million. The movie has now surpassed The Matrix Reloaded to become the third most successful R-rated (in the U.S.) film domestically. Tribute.ca users clearly have no objection to the flick's enduring success as they gave it a strong 3.7 star rating.
The box office gods didn't crown Gods of Egypt the top film of the weekend, but they did give it the runner-up prize. The film, which stars Gerard Butler and Brenton Thwaites, is about the fight to return Egypt to its prosperous state after a cruel, power-hungry god brings it to its knees. Making its debut, it managed to reel in $14 million. It did, however, narrowly trump Deadpool with its 3.8 star rating from Tribute.ca users.
In its fifth week, Kung Fu Panda 3 continued to slice its way through the box office ranks by tugging in another $9 million to make its grand total $128.5 million. The film, which follows the fun-loving Po's transition from martial arts student to instructor, relinquished its second place finish from last week to Gods of Egypt. However, by clinging to a top five position, it obviously has some fight left to give. Jack Black and Dustin Hoffman are just a couple of the big Hollywood names who lent their voices to the film, which Tribute.ca users have embraced with a 3.9 star rating.
Progressing in profit ascension, Risen raked in $7 million this weekend to place fourth. Its box office sum now sits at $22.7 million. With Joseph Fiennes in the lead role, the film explores the epic Biblical Resurrection from the vantage point of a non-believer. Its 3.9 star rating, though, indicates Tribute.ca users are believers in the movie.
Eddie the Eagle, starring Taron Egerton and Hugh Jackman, chronicles the story of Eddie Edwards, Great Britain's famous underdog ski jumper who won over audiences during the 1988 Calgary Winter Olympics. Nearly 30 years on, Eddie evidently still has sway over the masses as the film soared to a top five finish at the box office with its $6.3 million opening weekend earning. It triumphed over its box office competitors in ratings as Tribute.ca users granted it 4.1 stars.
~Matthew Pariselli