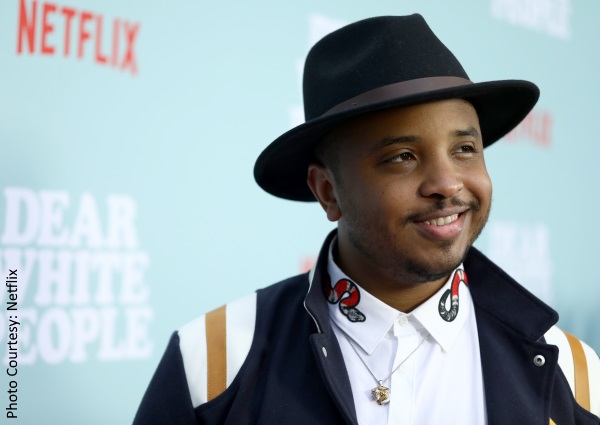 Dear White People is a Netflix original show that's essentially a comedy with serious undertones about race and politics. Set at a predominantly white Ivy League college, a diverse group of students navigate various forms of racial discrimination and prove that their college is not as "post-racial" as it thinks.
With season two recently premiering on Netflix, we chatted with creator Justin Simien in Los Angeles about what's to come.
What did you learn from season one that you applied to season two?
I think in the first season we were all learning how to make the show. I was learning how to translate a film to a series, my writers were learning how to write like me, the directors and I were learning how to tell a five-hour movie but with different directors. We were figuring out a lot of things. In season two, not only had we already introduced the characters, but we kind of figured out how the sausage is made. We were able to immediately start taking risks from day one as opposed to trying to fit some risks in there. That's my favorite part…the risk-taking. What's the story that we might get into trouble to tell? We try to find something like that in every episode.

There was some controversy over the title of the show last season. I read that the controversy and your own reaction to the backlash is what inspired season 2. How so?
Yeah, definitely. I was taken aback because it had already been a movie so why were people so threatened by this title? Obviously we were in a different kind of America so what I found so interesting was this effort to use outrage as a weapon into making people think this show was something that it wasn't. It made me think, "Why would someone do that?" And those questions led me down a rabbit hole that I had to talk about as an artist. That's literally season one. Who's hiding behind the curtain? It really is a recurrent theme this season. Especially with fake news and anonymity and all that stuff and I just thought the secrets we keep from each other is such a juicy topic. I felt like it affected the kids' personal lives but also the historical context.
So the online trolling storyline with Sam was inspired by real life?
Yeah, and it's not just me. All the writers had, to some degree, had an experience with this. There's a lot of really ugly attacks and you have to ask yourself, "What are they so afraid of?" And that oddly enough is what we all have in common. There's a fear that we are going to be erased. I think that's why this season is so obsessed with that concept. What is erased and who gets to decide what is seen and what is not seen?
Do you know how long you plan to continue the show?
I know what I want to do in seasons three and four. But the show is such a reflection of my experiences in life that I remain open. There are a lot of voices that haven't been heard. There are a lot of stuff we wanted to do with the characters we have now that we haven't been able to do yet. For right now, I know what the next two seasons look like in my head. But I don't know man, anything can happen in this country and suddenly I'm like, "Okay, you know what, we going to have to do a seven season arc." So we'll see.
Whose idea was it to do the shrooms episode?
I might have come up with the idea to do shrooms (laughs). Troy has been so buttoned up since the movie that there's a person in there who we didn't get to see who might be fun. And I had a personal experience with said shrooms and I thought that would be an interesting thing to televise but not in the typical drug-trippy way where it's about the trip but in a way that would force Troy to out himself, to talk about his insecurities and revisit his past. It felt like an interesting way in to him and a way to see a bunch of things to him at once. It felt like a fun episode to do.
Is there a character whose storyline you're excited to explore?
Yeah, I really want to get into Rashid's experience as an African among African-Americans. We really wanted to go there this season, but the actor had some other commitments. We sort of brush on him a little bit more. And also Al — he's got a host of stories. We all know as writers, but we've only been able to hint at it. He's obviously got a lot to say. I want to get into why he has so much to say and why he says it. Also, Lionel… I mean all of them. We have more layers and intersections to go into. I think it was really fun to give Joelle her first episode. I think there's more to get into, especially her relationship with Sam. There's too many characters, I don't know why I did it like that (laughs). There's too many people and I can't get them to shut up in my head. I got to find a space for them to talk.
Dear White People is currently streaming on Netflix ~Marriska Fernandes