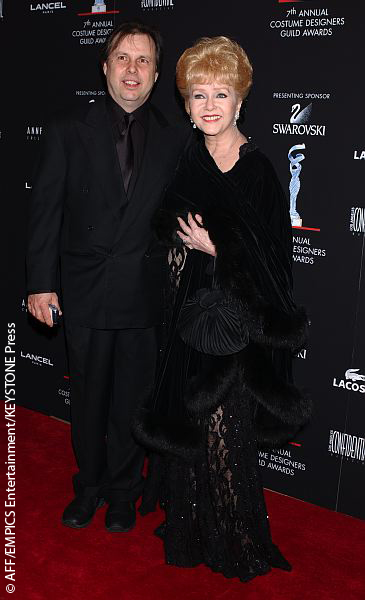 December 2016 will go down in the history books as a month of loss and mourning. Following the deaths of Leonard Cohen, Florence Henderson, Alan Thicke, Zsa Zsa Gabor, George Michael and Carrie Fisher, legendary actress — and Carrie's mother — Debbie Reynolds passed away. Tragic yet strikingly poetic, she was planning her daughter's funeral when she suffered a stroke.
In the wake of Debbie's sudden death yesterday evening, her son Todd Fisher discussed her final moments with E! News as several celebrities expressed their grief and others penned tributes to honor the Singin' in the Rain actress.
Revealing intimate details of Debbie's state before passing, Todd said yesterday his mother "went to be with Carrie." He added, "in fact, those were the last words that she spoke this morning."
Todd continued, "More specifically, she said that she really, she was under a lot of stress. She held it together beautifully, obviously, for the last couple of days but she was under a lot of emotion and stress from the loss [of Carrie] and it's pretty much what triggered this event."
Aside from Todd, Carrie's half-sister Joely Fisher also reached out. The actress-singer took to Twitter shortly after Debbie was rushed to the hospital, and wrote, "God speed mama." She accompanied the text with a 2010 photo of herself and Debbie laughing together at a red carpet event.
Once news broke that Debbie had passed, Joely returned to Twitter to share that she was, and arguably will be for some time to come, "inconsolable."
Below, you can check out Joely's tweets.
But Debbie had an impact on many lives, and several stars outside of the Fisher family took the opportunity to share their sentiments about the Oscar nominee. Among them are Miley Cyrus, Ellen DeGeneres, Seth MacFarlane and Bette Midler.
Check out their tweets, and many more, below. ~Matthew Pariselli
God speed mama pic.twitter.com/XsO5zqN8w6

— Joely Fisher (@MsJoelyFisher) 28 December 2016
Some of the magic people have left the tribe…for the moment I am inconsolable…💔💔💔

— Joely Fisher (@MsJoelyFisher) 29 December 2016
💔💔💔💔💔💔💔💔💔💔 wow…… this sad news makes me wanna hug my mama and never let go…… pic.twitter.com/WX7vN63x0k

— Miley Ray Cyrus (@MileyCyrus) 29 December 2016
I can't imagine what Carrie Fisher and Debbie Reynolds' family are going through this week. I send all of my love. — Ellen DeGeneres (@TheEllenShow) 29 December 2016
My favorite Debbie Reynolds recording. She was one of the last of the true H'wood talents: actress, singer, dancer: https://t.co/67zWUUHDhv

— Seth MacFarlane (@SethMacFarlane) 29 December 2016
#DebbieReynolds has just died. This is too hard to comprehend. Beautiful, talented, devoted to her craft, she follows Carrie, dead days ago. — Bette Midler (@BetteMidler) 29 December 2016
So heartsick. Debbie went to be with Carrie. It's such a devastating 1,2 punch. She was my "mom" for years & I loved her dearly.A legend.

— Debra Messing (@DebraMessing) 29 December 2016
Debbie Reynolds, a legend and my movie mom. I can't believe this happened one day after Carrie. My heart goes out to Billie. — Albert Brooks (@AlbertBrooks) 29 December 2016
Debbie Reynolds was one of the last of Hollywood Royalty. It breaks my heart that she is gone. I'd hoped that my grieving was done for 2016.

— William Shatner (@WilliamShatner) 29 December 2016
Heartbreakingly, #DebbieReynolds passes away a day after her daughter @carrieffisher. Now rewatching her be genius in @AlbertBrooks' MOTHER. https://t.co/0DljZwjKV6

— KevinSmith (@ThatKevinSmith) 29 December 2016
It is beyond astonishing that both @carrieffisher & @DebbieReynolds1 have left this earth. I overwhelmingly adored & admired them both. 😢🌹🌹 pic.twitter.com/emLn1ZvwUd — Sean Hayes (@SeanHayes) 29 December 2016
There are no words. Just that we all want 2 surround Billie with loving strength & support. Please give her space media. Please. Please.

— Jamie Lee Curtis (@jamieleecurtis) 29 December 2016
Truly heartbroken to hear @DebbieReynolds1 has died. She was a wonderfully warm friend and colleague. Praying for Todd & Billie. #RIPDebbie pic.twitter.com/P85OVsMBUt — Joan Collins (@Joancollinsdbe) 29 December 2016
Now Hollywood royalty Debbie Reynolds has passed like her daughter Carrie Fisher. Brilliant singer, dancer actress. It's SO sad. RIP

— Marlee Matlin (@MarleeMatlin) 29 December 2016