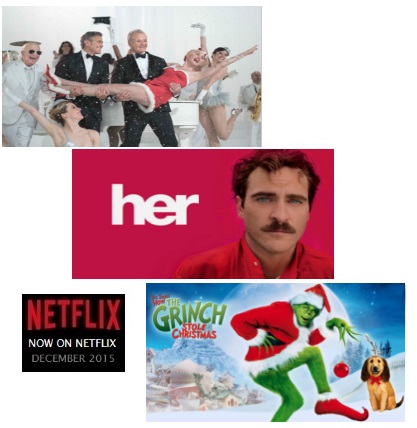 'Tis the season of hot chocolate, holiday cheer and festive flicks. What better way to avoid the brr… winter than sleep in and cozy up to a good old movie or two or three (the list goes on, right)! So let's Netflix and chill with these December goodies while you munch on some holiday treats.
Netflix Originals
Bill Murray brings unlimited holiday cheer with the premiere of an all-star musically-driven Netflix holiday special, A Very Murray Christmas (Dec. 4). Also: Trailer Park Boys: Drunk, High & Unemployed – Live in Austin (Dec. 9), The Ridiculous 6 (Dec. 11), Mike Epps: Don't Take it Personal (Dec. 18) and Making a Murderer: Season 1 (Dec. 18).
Kids need TV time too
Netflix Original Series for Kids include The Adventures of Puss in Boots: Season 2, Glitter Force: Season 1 and Dawn of the Croods: Season 1. 
Festive flicks
Bojack Christmas Special, How the Grinch Stole Christmas, The Nightmare Before Christmas, Arthur Christmas, The Swan Princess Christmas and Thomas & Friends: Merry Christmas Thomas. 
Where art thou, Prince Charming?
Based on Nicholas Sparks' book, The Longest Ride will have the ladies swooning over Scott Eastwood (Dec. 1).  If that isn't enough, you can always stare into Joaquin Phoenix's blue eyes as he charms you in HER. And if you're still not feeling the love (I worry for you), maybe romance isn't your cup of tea. You might like the dash of comedy sprinkled in 2 Days in New York.  
Ass-Kicking at its Best
Sherlock fans can revel in the Sherlock Homes (Dec. 1) movie starring Robert Downey Jr. and Jude Law. Or you can watch Marvel's favorite Avengers: Age of Ultron (Dec. 16). Also available this December is Kick-Ass 2 (Dec. 1).
'Tis the season for new seasons
Alicia Florrick is kicking legal butt in the sixth season of The Good Wife (Dec. 15) as she works to save Florrick/Agos. Other series with new seasons up for entertainment is About a Boy: Season 2 (Dec. 30) and Gary: Tank Commander: Season 2 & 3 (Dec. 1). There's also a bunch of new shows including Burnistoun (Dec. 15), Limmy's Show (Dec. 15) and The Straits (Dec. 1). 
Happy holidays from Tribute!
~Marriska Fernandes