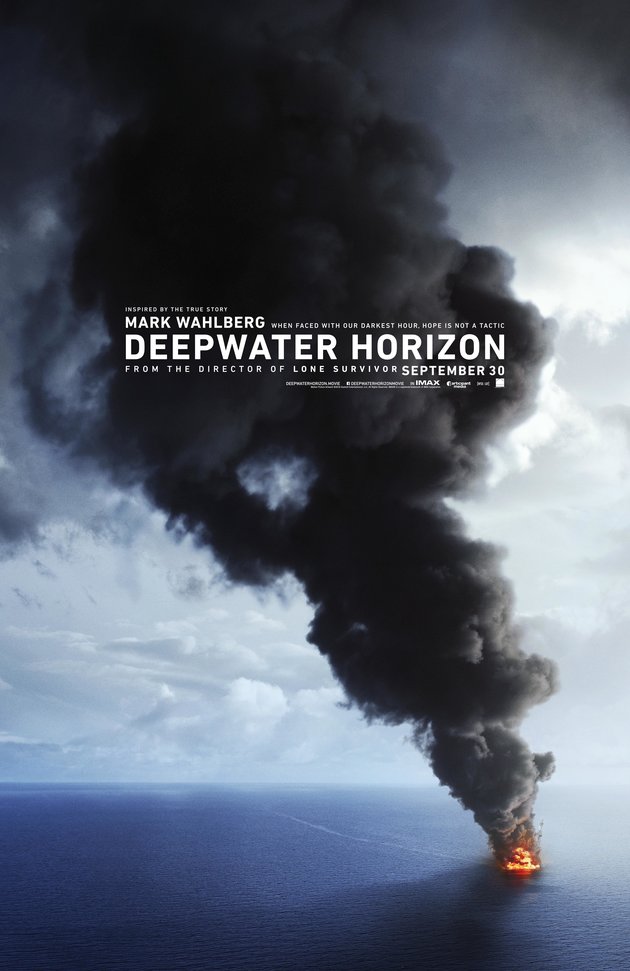 It's a movie geek's dream this week — a whopping seven out of the 10 trailers we've got on tap for you are brand-new first looks! We've got the premiere trailers for some of the most exciting upcoming movies of the year, including the harrowing true story drama Deepwater Horizon, the period drama Tulip Fever, the heist thriller Marauders and so, so many more. 
But if you're dying to see some follow-up trailers and learn a little more about your favorite flicks almost in theaters — we've also got the new Bebop and Rocksteady trailer for Teenage Mutant Ninja Turtles: Out of the Shadows, the thrilling second trailer for the crime drama The Infiltrator and the raunchy restricted trailer for the comedy Mike and Dave Need Wedding Dates. 
Here's the full list of the latest trailers:
1) Deepwater Horizon
2) Tulip Fever
3) Teenage Mutant Ninja Turtles: Out of the Shadows
4) The Infiltrator
5) Collide
6) Marauders
7) Monster Trucks                  
8) Equity
9) Mike and Dave Need Wedding Dates
10) Weiner-Dog
Deepwater Horizon- In the Gulf of Mexico in 2010, the Deepwater Horizon oil rig exploded, creating the worst oil spill in American history. This dramatic film, starring Mark Wahlberg, Dylan O'Brien, Kurt Russell, Kate Hudson, and John Malkovich, recounts the extreme moments of bravery and survival in the face of what would become one of the biggest man-made disasters in world history. Based on true events that occurred on an oil rig in the Gulf of Mexico on April 20, 2010.
Tulip Fever- During the tulip mania of 17th century Amsterdam, Dutch artist Jan Van Loos (Dane DeHaan) is commissioned by Cornelis Sandvoort (Christoph Waltz) to paint a portrait of his lovely young wife Sophia (Alicia Vikander). However, things get complicated when the artist falls for the married woman. Based on the novel of the same name by Deborah Moggach.
Teenage Mutant Ninja Turtles: Out of the Shadows- The Teenage Mutant Ninja Turtles — brothers Raphael (Alan Ritchson), Michelangelo (Noel Fisher), Leonardo (Pete Ploszek) and Donatello (Jeremy Howard) — return to save New York City from a new threat. April O'Neil (Megan Fox) and Vernon Fenwick (Will Arnett) are joined this time around by a goalie-masked, hockey stick-wielding vigilante named Casey Jones (Stephen Amell) as they team up with the turtles to combat purple ooze, which turns humans into animals.
The Infiltrator- Federal agent Robert Mazur (Bryan Cranston) goes deep undercover in 1986, posing as a money-laundering businessman named Bob Musella. Along with fellow agents Emir Abreu (John Leguizamo) and Kathy Ertz (Diane Kruger), who poses as his fiancée, Mazur gets to know Roberto Alcaino (Benjamin Bratt), who is part of drug lord Pablo Escobar's crew. Knowing that one slip-up could lead to his death at the hands of the drug dealers, Mazur tries to build a case that will hopefully put up to 85 drug lords behind bars, as well as the corrupt bankers who are involved in helping them.
Collide- When a heist goes wrong, Casey Stein (Nicholas Hoult) and girlfriend Juliette (Felicity Jones) find themselves on the run from a ruthless mob boss named Hagen (Anthony Hopkins) in the thriller Collide. In an effort to protect Juliette, Casey enlists the help of his former drug smuggler employer (Ben Kingsley). The result is an epic high speed chase across Germany.
Marauders- Jeffrey Hubert (Bruce Willis) is the wealthy and powerful owner of Hubert National Bank in New York City. After group of robbers leaves the bank short $3 million and Jeffrey's brother dead, it's up to Agents Montgomery and Stockwell (Christopher Meloni, Dave Bautista) to investigate the violent heist. Along the way, they discover a shocking web of lies and corruption.
Monster Trucks- Tripp (Lucas Till) is a high school senior with a serious passion for trucks and builds his own, using bits and pieces of scrapped cars. What he never expected was that he would find a monster in his truck. Tripp discovers a creature who can act as the engine to his monster truck, allowing him to perform superhero feats. Tripp names him "Creech," and the two go on an unforgettable adventure together, forming an unbreakable bond in the adventure flick Monster Trucks.
Equity- The first female-led Wall Street film, the financial thriller Equity follows Naomi Bishop (Anna Gunn), a top-notch senior investment banker, who lives for her job and for making money. Despite interoffice sexism and enemies within the industry, Naomi has made a name for herself and is quickly making her way up the corporate ladder. However, during negotiations of a major client, she finds her career quickly undermined by scandals of all sorts: a vengeful co-worker, an unwise affair, and even a possible police investigation.
Mike and Dave Need Wedding Dates- Hard-partying brothers Mike (Adam DeVine) and Dave (Zac Efron) are told by their father that they need to find suitable dates for their sister's upcoming Hawaiian wedding. They place an ad online looking for a couple of nice women. The ad reaches The Wendy Williams Show and Tatiana and Alice (Aubrey Plaza, Anna Kendrick) see it. The out-of-control girls decide to respond and trick the brothers into thinking they're polite and composed. But once the girls reach Hawaiian shores, the unsuspecting men realize they've been out-smarted, and will soon be out-partied.
Weiner-Dog- Weiner-Dog follows the wayward adventures of a dachshund who passes from oddball owner to oddball owner, whose radically dysfunctional lives are all impacted by the pooch. First, Dina (Julie Delpy) and Danny (Tracy Letts), the parents of nine-year-old cancer patient Remi, who are looking to teach him needlessly cruel lessons about life. Unfortunately, Remi is not allowed to keep the dog for long. The dachshund passes from a veterinary nurse (Greta Gerwig) to a disabled couple, then screenwriting professor Dave Schmerz (Danny DeVito),  and finally, an unhappy, bitter old woman (Ellen Burstyn) who names the dog "Cancer."