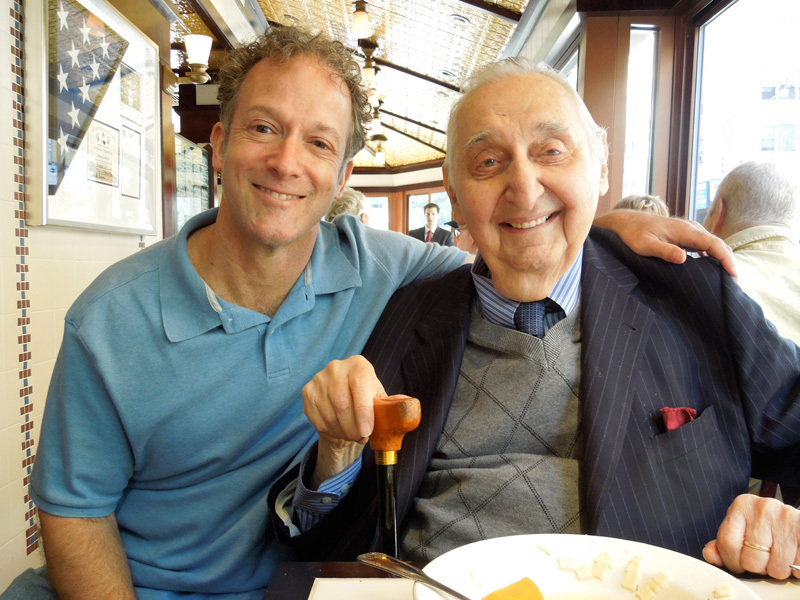 Deli Man is a wonderful documentary talking about the rich history of Jewish culture in food and its impact on America spanning over 100+ years. Deli Man details the rise and fall of popularity of delicatessens and reflects on the current renascence deli food is enjoying in North America.  We had the chance to speak with director Erik Anjou (pictured at left with actor Fyvush Finkel) about the film and its impact on deli restaurants. ~Greg Chisholm
What made you choose to create a film about delis?
Really a combination of two things. Number one was meeting Ziggy Gruber in Houston, Texas. Ziggy is very active and philanthropic in his community and he had sponsored a screening of one my earlier films in Houston at a film festival. I met Ziggy when I went to the film festival and he used his line "Come on in and let me feed you." So I went into the deli and we immediately hit it off. About the same time I was reading a book by Toronto-based author David Sax called Save the Deli. At one point there were 2000+ delis in the five boroughs of New York alone, and when David wrote the book there were 150 Jewish delis both kosher and non-kosher in North America. It's a pretty staggering drop. That number in conjunction with meeting Ziggy who was obviously such a passionate advocate of delis is the kind of thing that sparked me. What's going on here? Why the loss?
What is it about deli food that makes it so special?
Deli food is unique cuisine. Personally I love deli but I am not driven by it. I love to eat it, it's absolutely delicious but I think what is more important is what the food is, where it came from and what it represents. It's really a delicious and unique ethnic cuisine that over the years has fallen out of favor. Why was this thing that's so popular, so part of American culture suffering such a precipitous drop?
What is the secret to an incredible deli sandwich?
As David Sax says in the film, a perfect deli sandwich is the simplest and  yet the most difficult thing to achieve. The perfect deli sandwich is really all about preparing, curing, pickling and serving the meat. Especially when we are talking about pastrami or corned beef to a certain extent. You really have to get it right. Pastrami itself can be a tougher meat so you really need to know how to prep it, how to steam it, how to serve it, how to maybe cut around some of the rough spots in the meat. That's the key. Getting the pastrami to the right place where it's ready to melt in your mouth and meat by its nature doesn't really want to melt in your mouth. You really have to work with it.
How did you get two legends like Jerry Stiller and Larry King involved?
Well, you know, diligence and a little bit of luck. Someone had given me Larry King's cell phone number and I just cold called him. I said "I'm Eric, I am from New York, and I'm working on a movie about delis, would you like to participate?" Literally he picked up the phone when I called him so I had to have my pitch ready. He was great, he said, "I'd love to be involved, call my assistant and set something up." Jerry Stiller took a little bit more work. He is a very, very lovely man. I was given the number of his manager and we had to go through the layers and kind of convince him why he should participate in a project that he didn't really [laughs] know about. Obviously with a documentary this isn't going to be a cash gig. So somebody and especially a star of his stature has to be convinced that this project has some weight, it's going to get done and it's going to get out there and of course, Jerry loves deli. I finally got through his people but it took a while to convince him.
What was it like speaking with those two?
The wonderful thing about documentaries, they don't come together easily, so when you actually get someone like that to be on camera, everything is icing. Actually, one of the scariest things has to do with the filmmaking itself, in the sense that there is relatively no money in the budget. The toughest part is actually finding a time in the daily life of the restaurant for one and finding a time in the daily life of the star, like Jerry, where those combine. You don't want to be interviewing someone at 1:30 in the afternoon of a bustling deli, that's not going to work as you need a clean soundtrack. When you're sitting there talking with him while he is regaling you with stories, that is the icing on the cake. He is a wonderful personality. It was fantastic.
How long did this documentary take to make?
The documentary took a little over three-and-a-half years to complete. When you talk to other documentarians, some guys get it done in a shorter space of time, a lot of them take longer. For us it was just a matter of the traveling. The traveling was the cool part. It's making sure you have the money in the bank to make the traveling and the interviews and the shooting possible.
Where would I find the best deli in Toronto?
We visited two delis in Toronto. They are both very different kinds of delis and they're both neck and neck. Centre Street Deli up in Thornhill is absolutely amazing and served perhaps one of the best smoked meat sandwiches I've ever had in my life, deli or non-deli. Centre Street rocks. The second deli is, I think equally as good, but for different reasons, is Caplansky's. Zane doesn't have everything on the menu that Centre Street has but he approaches the food prep in a different way. His place has a different kind of vibe to it that is, I think, equally important to a deli's essence. I respect what he's doing in a cultural sense trying to make a deli a community again.
What about the best deli in the world?
Best deli sandwich in the world?… Wow. I mean it's going to sound like a paid advertisement but the deli sandwich that I love most is Ben's Best in Queens and Kenny & Ziggy's [in Houston, Texas]. I mean, there are other guys out there doing a great job obviously the pastrami at Katz is great. It's not like a neighborhood store anymore. Yes they make great food but it doesn't even compare to what Jay is doing or what Ziggy is doing. They are on a different level as far as I'm concerned. As far as Ziggy and Jay, they have to serve the neighborhoods they live in. Their businesses aren't dependant on people getting off a plane from Paris and reading about the restaurant in some guide and wandering into the restaurant because it's part of iconic New York. They have to work their businesses in a different way. I deeply respect that. There are a lot of places I didn't get to that I understand have awesome sandwiches, I can't speak for them. There is a place called Kenny and Zuc's, I believe in Portland, Oregon that is apparently fantastic. There is a legendary store that I haven't eaten at since I lived in Los Angeles 20 years ago called Brent's. Brent's apparently makes one of the best sandwiches in the country. I can't say I've eaten them but I can say there are other delis out there, probably ranking up with Jay's and Ziggy's.
Was there anything left out of the film that you wanted the viewer to take away with them aside from a craving for a big delicious sandwich?
Yeah, I think the one thing I didn't get to in the film, we just couldn't make it happen unfortunately, was to get a cool younger star in there. One of the cool things going on in the deli business right now is that against all the odds, it's really experiencing a bit of a renascence. People are really digging the food and loving it, understanding how good it can be when prepared by the right chefs. I wanted the movie to appeal to a younger demographic. We tried really hard to get to Sarah Silverman and we tried really hard to get to Seth Rogen, some cool younger Jews who can reach out and speak to a younger generation. We love Jerry Stiller and Fyvush Finkel, but these guys are older gentlemen. I wanted to make sure that our audience knows that deli is cool and delicious for a younger audience too.
What's next for you? Is there another documentary in the works or perhaps another book?
I am all over the place with projects. There is a screenplay I wrote based on a novel by Warren Adler called Residue. I'm writing another screenplay on top of that. I'm developing two food shows, one of them featuring Ziggy. There is no lack of projects out there, it's just kind of [hard as] an independent. Where is the money coming from first? In the meantime I have five active projects that I'm pushing every day and we're awaiting word.
Deli Man opens in Toronto this Friday, June 19.