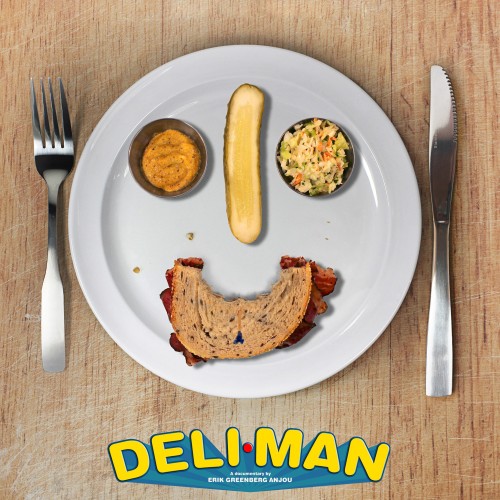 Deli Man is a documentary from director Erik Greenberg Anjou, examining the art and history behind delicatessens in the United States. Delicatessens at one point were the benchmark in comfort food across the United States. This film focuses on David "Ziggy" Gruber, owner of Kenny's and Ziggy's in Houston, and his love for deli, as well as its history and Jewish culinary heritage.
David followed his passion to work at a deli. When David was eight, his grandfather brought him to the kitchen to start learning how to prepare dishes. The rest, as you say is history. David has spent almost every day of his life working at the deli, building his business and keeping in line with old traditional Jewish values and recipes. There used to be thousands of delis across America – now there are just 150.
David is a third generation deli man who has followed in his grandfather's footsteps. His grandfather opened the Rialto Deli, the first deli on Broadway, in 1933 during the height of the Great Depression. The deli was either going to do very well or fail very quickly, as New York was in a terrible financial state at the time. David attended school in England and on multiple occasions he actually served the Queen of England.
Delis first came to the United States in the 1840s during the German migration of that time. In the 1950s delis were a staple all over America. "Deli wasn't just comfort food, it was for the heart, for the soul." said Jerry Stiller. Good deli was the life blood of Jewish cuisine and recipes from the old countries. Larry King appears in the film and was passionate about a good pastrami sandwich saying, "If I don't like the way it tastes, I won't go back, not ever."
When delicatessens first became popular it was because they were a cheap and delicious option for immigrants to open and as more roots got established, the deli restaurant became extremely popular with people of all heritages across the country. Due to its great taste and low cost, deli was seen as a fast food type option back then. Many operators in the industry debate the merits of Kosher and traditional deli vs the new styles on modern fusion eateries.
Deli Man is a fascinating look into the rich history of Jewish eateries across America. One of the more interesting factoids from the film is that pastrami is actually a Romanian creation. Watching it gives you a real appreciation for the love and care that goes into every dish. The feeling of family and warmth coming from the atmosphere of the traditional delis makes you wish for that old style home cooking. By the end of this you will want a deli sandwich so much that you may end up driving out in the middle of the night just looking to get one. ~Greg Chisholm