Director Mark Myers discusses standup comedy and family life
By Alexandra Heilbron on September 25, 2014 | 2 Comments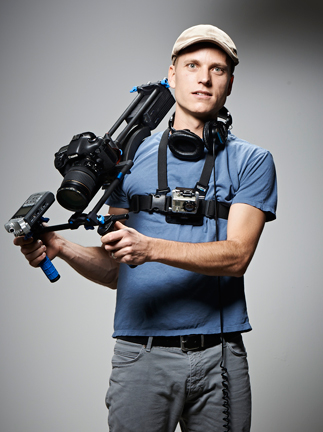 When Mark Myers' wife was pregnant with their first child, the filmmaker decided to set a goal for himself – to do standup comedy onstage before becoming a father. He got his friends involved and filmed a documentary about their journey. To raise funds for the project, Mark launched a kickstarter campaign that netted him $16,522. What resulted is Delivery – a surprisingly heartwarming film that delves into serious topics, including the terminal illness of a friend's father, while offering a humorous look at what it takes to become a standup comedian. The movie includes cameos from real life comedians such as Russell Peters, Seán Cullen and David Alan Grier. Tribute had a chance to talk with the first-time filmmaker. ~Alexandra Heilbron
Was $16,522 enough to make the film?
Sadly, things just kind of added up, like a lawyer alone is $5,000 and then to get the insurance is almost $3,000. So just those two things, not counting graphics and color correction, post-audio, music, all the other things, it adds up. So I ended up going out of pocket for everything else.
So there's a lot more to making a movie than people think.
Yeah, time and persistence is the biggest thing. After making this film you get a newfound respect for anyone who's made a movie at all, good or bad.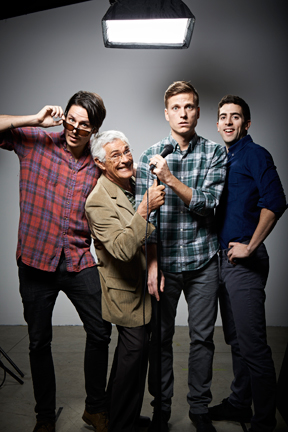 How old were you when you knew that you wanted to be a filmmaker?
I guess probably halfway through high school. I did art – I would draw and whatnot, so I didn't make a lot of stuff until halfway through high school and then I was like, "Okay, art's interesting." Then I got into photography and then after getting into photography it's like, okay I like telling stories and telling stories with a camera. A huge influence was like Steven Spielberg and filmmakers like that, so since I was younger Star Wars would have been my turning point, but seeing Jurassic Park was like, "Wow, this is kind of unbelievable."
How did you get started in filmmaking?
This is technically my first film. I've worked at MuchMusic now for about 10 years so I've made documentary type shows or reality type shows while working here. I went to U of T, took Cinema Studies and Visual Arts, so I've always wanted to make a movie.
Was there a message you wanted to make with this movie?
I did. I guess the truth is that the initial idea was doing a film about standup comedy. I wanted it to be funny but as emotional as it was funny and I didn't know exactly where that emotion was going to come from. The idea of doing a film about standup comedy is interesting, with people who aren't standup comedians, just seeing that process. But I realized it's not enough of a story, and with the pregnancy of my wife and the due date I was like, "What a great combo of things coming together." I learned that as important as it is to try something, it's almost equally as important to stick with it or be persistent. A lot of the comedians in the film said if you want to do standup comedy then you have do it over and over and over again just to get decent at it. Also, with the father storyline of my friend, I realized having a kid makes you a dad but it doesn't make you a good dad – you really have to work at it.
I loved that part, when Sean's father told him not to screw up like he did because he'd end up alone. That's a great message.
Exactly. That was probably one of the most emotional scenes, the casual scene in the kitchen when the father is talking about regret. I had a feeling that once I started filming that the message and the theme would present itself. A comedian would say something or, in the case of Sean's dad, he would reveal something so unexpected, it kind of gave it shape. The film is about setting goals and trying something that you're not comfortable with because you'll learn something that you maybe didn't know before.
There's an interesting statement from one of the comedians, who says, "I don't do stand up to make people laugh, I do it to make me not cry." Do you think there's any truth to comedians being unhappy people?
I think it depends on the person. Some people say comedy comes from pain but I think everything comes from pain. So maybe that's what someone might focus on to give it meaning for them, but I don't know if every single one has to be about pain. Not everyone was on the same page on that. Some people said, "I had a good childhood, I was a happy kid, I just like making people laugh."
Would you ever want to do stand up again?
Yeah. After doing it the first time, it was so difficult, I think I said my heart was going to explode in my chest on the days leading up to it, but after having done it you realize, "I can go up there again because I've already done that," so it's not as frightening. I feel like I could, but I definitely want to come up with cleaner material and be smarter.
I was so nervous for you guys, I was afraid you were all going to bomb, but you were all actually really good.
I was pleased with my end result, even though when someone asks how I did, I'll say I did as bad as I possibly could and as good as I possibly could. Because I think I hit as low as you could go up there by forgetting and having to ask the audience what my joke was.
Yeah, but that actually then kind of worked.
Yeah, it kind of worked. It felt like I kind of recovered, but it's something that I would consider and if you watch the end credits, one of the other guys did try it again and he bombed. I wanted to put that in there, because it's like they want to know that people do really bad the first time and if you didn't do really bad the first time you're going to fall on your face the second time, because it's supposed to be hard.
In the movie, when you said you were going to have someone film your wife giving birth, she said no.
You know what's crazy, I thought I'd already had the conversation with her, I thought I'd brought up the fact that I wanted Ryan to film it. But I must not have, I must have been like, "Oh, I want to have this conversation with her" but it never happened. You don't know what it's like in the delivery room until you're in a delivery room and even now with the filming of my baby being born and my wife delivering the child, luckily she was seemingly okay with it, but I can only imagine, it's just a very raw moment, you don't want anybody that you don't want in there. So I get it completely. I was asking too much of her. It's like, okay, I'm going to do a movie before I have a kid so now the kid and my wife are a big part of the storyline, but just because it's a big storyline to me doesn't mean that my wife has to be fully on board.
So did you end up filming it yourself?
Yeah, I had a go pro camera strapped to my chest. But my wife knew that, obviously. I was just there by myself, I had a camera that was only revealed by the buttons in my shirt. I was like Iron Man. I just had my still camera, one of those Canon cameras you can do video on. I just shot like I would if I wasn't making the movie because I document almost everything. I take a ton of pictures and I shoot a lot of video. So even if I wasn't making a film, I would have shot the exact same.
It was good, it was tastefully done. You were so excited about being a father that I'm guessing you want more children?
Yeah, we're having another kid in three weeks.
Congratulations! Are you hoping for another son or for a daughter this time?
Either one is awesome. I'm one of six kids and five of them are boys. I have a close relationship with my brother, we're only a year apart. So in my infantile mind it would be great if my son had a brother, because then it would be like me and my brother, but we may only have two kids and if we only have two kids it would be beyond amazing to have a little girl.
Delivery opens in Toronto this Friday, September 26, 2014 and hits Video on demand nationwide on September 30, 2014.
---
---
---
---
Similar Articles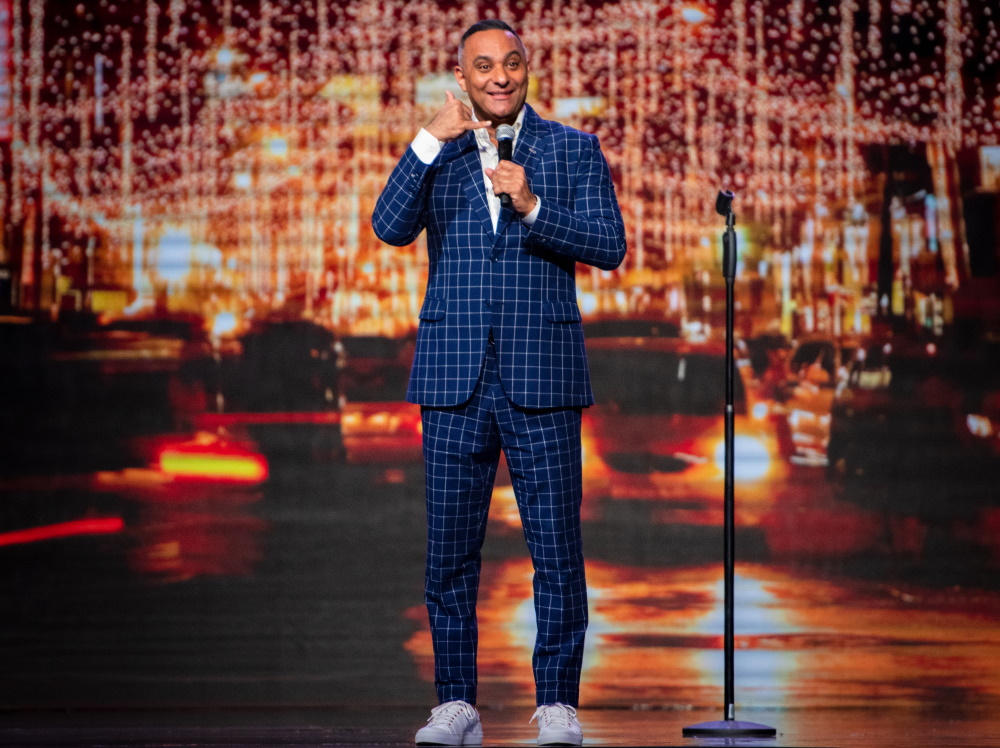 January 23, 2020 | 1 Comment
Canadian comedian Russell Peters pokes fun, endearingly, at a range of cultures, races, ethnicity and especially, his Indian heritage in an interview with us.
---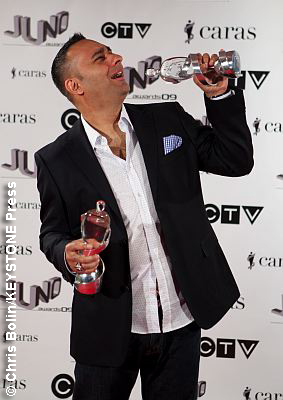 April 6, 2017 | 21 Comments
Russell Peters is facing backlash, following rude comments he made while hosting the JUNO awards on Sunday. Organizers for the show issued an apology.
---
---