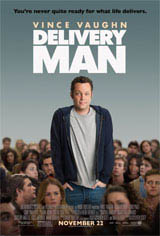 In this featurette, the cast and crew of Delivery Man talk about their new comedy.
Based on the French Canadian film Starbuck, Delivery Man tells the story of an affable underachiever who finds out he's fathered 533 children through anonymous donations to a fertility clinic 20 years ago. Now he must decide whether or not to come forward when 142 of them file a lawsuit to reveal his identity.
Delivery Man opens November 22.
RELATED VIDEOS
Clip: Yo No Soy David Wozniak
Clip: I Think I Want a Kid
Clip: I Do Not Have Mental Problems
Trailer 2
Trailer