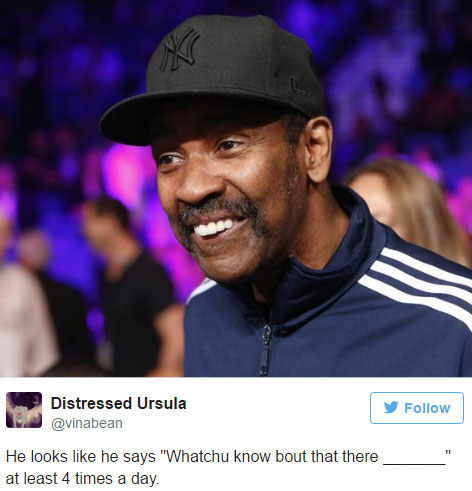 In case you didn't know, Denzel Washington is not amused by the meme that's been circulating on the internet since last year.
In May 2015, when he was sporting a mustache in preparation for his role in The Magnificent Seven, he was photographed after the Floyd Mayweather-Manny Pacquiao boxing match. In the photo, he's wearing a baseball cap, he's leaning slightly forward and his front teeth are jutting out.
The memes, some of which are pretty funny — have been tagged #UncleDenzel on Twitter. But when a self-proclaimed "self-taught" journalist who calls himself The Almighty Zilla was doing an interview for The Magnificent Seven with Denzel and director Antoine Fuqua, he asked Denzel about the meme.
Denzel was instantly defensive and replied, "If I had my wallet, I'd show it to you. Because they didn't know what I was doing. They don't need to know."
He added, "Those who can, do. Those who can't, talk about those who can. Are you just one that sits on the sideline to talk about other people, or can you step up?"
The Almighty Zilla hastily ended the interview on that point and tweeted the video, writing, "For all those who laughed at "Uncle Denzel" Mr. Washington has a message he wants me to give to you."
Fans have been tweeting about Denzel's response, including @NotherBrother, who wrote, "Damn. Denzel seems kinda pissed by the whole #UncleDenzel shit. Talking about his wallet and shit," while Creed Bratton wrote: "Bruh gotta Lighten up." @JaynCleveland tweeted: "Denzel didn't find #uncledenzel amusing?!? U gotta be able to laugh at urself b…"
Do you agree with them? Should Denzel have laughed the meme off?
Check out the video and a selection of memes below:
For all those who laughed at "Uncle Denzel" Mr. Washington has a message he wants me to give to you. #Mag7 pic.twitter.com/9kOVbQ3kXQ

— The Almighty Xilla (@BlogXilla) September 14, 2016
"So your mama doing good? She seein anybody?" pic.twitter.com/2VIZ9tK3kK — jujoffer (@jujoffer) May 3, 2015
Yeah…I'll cut ya grass for ya. Just gimme a six pack of High Life and some menthols. pic.twitter.com/7vhZaLbRei

— Kal, Son of El (@Haas_Redd) May 3, 2015
"Boy, run me over to Willie Mae's for summa dat hot fried chic… WAIT A MINUTE, SHE CLOSED DOWN??!" pic.twitter.com/HGQsrExL4W — FOST (@GeorgeFoster72) May 3, 2015