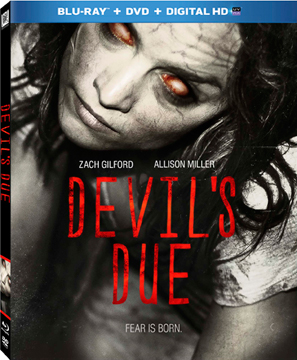 When I first read about the premise for Devil's Due, a "found footage" film, I immediately thought it might be something like the Paranormal Activity movies. I was right. This supernatural horror film starring Allison Miller and Zach Gilford is very similar in structure.
The main story centers around a newly married couple. After a rather mysterious night on their honeymoon — that they can't seem to recall — Zach and Samantha are faced with a rather unexpected surprise — an unplanned pregnancy. Zach decides to record everything on home video for his future child. Samantha experiences drastic changes in her behavior, which Zach at first thinks may be pregnancy symptoms. It soon becomes evident that there is something far more sinister at work here.
The film is pretty graphic and does have some "Oh my gosh did that just happen?" moments. The special effects are well done and as a fan of this type of genre, the overall premise of demons and cults was similar to movies I've seen before. Although enjoyable, nothing in this film took me by surprise.
Special bonus features include: Audio Commentary by directors Matt Bettinelli-Olpin and Tyler Gillett, Deleted Scenes and an Extended Ending, Radio Silence: A Hell of a Team featurette, Director's Photo Album and Mountain Devil Prank Fails Horribly. For a full list of this week's home releases, click here. We have five Devil's Due Blu-ray/DVD Combo Packs to give away – please comment below to be entered for a chance to win it! We'll contact the winners by email on Monday afternoon (May 5, 2014). ~Tarah Bleier