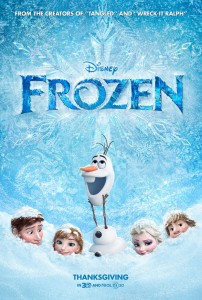 Disney is "Making Today a Perfect Day!"
Get ready to revisit Arendelle because the animated hit Frozen is getting a sequel. That's right, Disney couldn't "Let It Go." The news was announced at Disney's annual shareholders meeting yesterday, March 12, by Disney CEO Bob Iger, CCO John Lasseter and actor Josh Gad, who voices Olaf. 
Since its theatrical debut in November 2013, Frozen has grossed over $400 million domestically and nearly $1.3 billion worldwide, making a sequel inevitable. It has also become a major merchandise moneymaker. The original film's directors, Jennifer Lee and Chris Buck, are returning, along with producer Peter Del Vecho. While it hasn't been confirmed yet, the rest of the original team are expected to return.
Details about the sequel are being kept under wraps, but according to John Lasseter, Jennifer and Chris have something amazing up their sleeves.
The release date for the film is still unknown, but to hold you over until Frozen 2's debut you can catch the animated short Frozen Fever, which opens today exclusively before the live-action remake of Cinderella.
Are you as excited as we are about Frozen 2? What do you think the sequel will be about? ~Sandra D. Sukraj