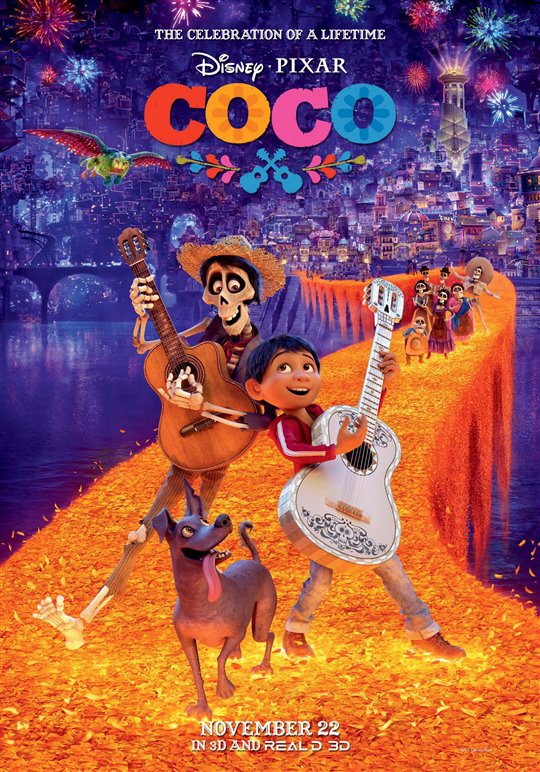 After weeks of superheroes leading the pack, the latest animated adventure Pixar's Coco took the top spot at the weekend box office. Like last year's Moana, it seems nothing can stand in Coco's way on opening weekend, which means Justice League's short reign at the top is over. ~Hayley Michaud
Coco brought in $49 million during its debut weekend, as families across North America flocked to theaters over the Thanksgiving holiday weekend, with nearly 300 theaters also offering the film in Spanish. The heartwarming tale is delighting fans everywhere, earning 3.5 out 5 stars from our users. If you'd like to see our exclusive interview with Anthony Gonzalez, the young actor who voices the lead role of Miguel, click here.
Dropping to second, Justice League brought in $40.7 million in its second week. Despite falling behind a family flick, it's still a popular film with audiences. Our users have given Justice League strong reviews with 4.1 out of 5 stars.
Wonder dropped only one spot to third in its second weekend, earning an estimated $22.3 million. Starring Julia Roberts, Owen Wilson and Jacob Tremblay, it has a 3.4 out of 5 stars rating from our users.
Continuing to hold onto a top five spot, Thor: Ragnarok landed in fourth place this weekend, also dropped one spot. It made an additional $16.8 million in its fourth weekend in theaters and earned 4.2 stars with our users.
Rounding out the top 5, the comedy Daddy's Home 2, starring Will Ferrell and Mark Wahlberg, has seen pretty steady numbers since its debut, making an additional $13.3 million this weekend. Our users have given Daddy's Home 2 a 3 star rating.