At just 15, China Anne McClain already has appeared in major feature films such as Tyler Perry's Madea's Family Reunion and Daddy's Little Girls, Adam Sandler's Grown Ups and Grown Ups 2 and for three seasons, she's starred as Chyna Parks on the successful Disney Channel series A.N.T. Farm, which currently airs in Canada on Family Channel. Her most recent project is the Disney Channel movie How to Build a Better Boy, which was filmed in Toronto and premieres on Family Channel on August 15. In it, she plays straight-A student Gabby Harrison, whose best friend brags she has a boyfriend and when the cool girls at school scoff at her, Gabby decides to actually create a boyfriend for her, but the results are more than she could have imagined. Tribute had the chance to talk to China Anne about How to Build a Better Boy, which co-stars Kelli Berglund (from Disney XD's Lab Rats) and former Canadian Idol contestant Marshall Williams as Albert, the boy they create. When not acting, China Anne is part of the singing group "3mcclaingirls," in which she performs with her two older sisters, Sierra and Lauryn.
What a fun film, what was it about this that most attracted you to want to be in this movie?
I loved the fact that How to Build a Better Boy is focused on two strong independent girls. I love the fact that they're both very intelligent and my character Gabby, specifically, she feels like, "I don't need a boy to make me feel complete. I'm going to focus on my path in life and then all of that will come later." I really like that aspect of it and I loved all of the characters mainly and that's what made me want to do the film.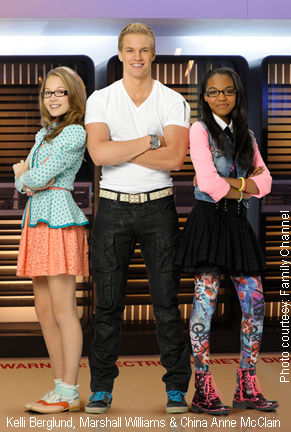 Your character isn't really into boys yet. Are you like your character, or are you boy crazy, or somewhere in between?
I'm kind of boy crazy (laughs). Mostly for celebrities that I love, like Justin Timberlake or somebody like that. Other than that, a lot of boys that I meet I'm not super boy crazy. I'm more focusing on my career right now and boys will come later and that's not just because my dad is like, "No boys!"
So, you're not allowed to date yet?
Um, I haven't really tried yet, I haven't pushed it too much (laughs), so I think I'll just let that go until the time comes.
What differences did you find between filming in Canada and in the States?
Well, definitely they're different types of people. Two totally different kinds of people. I love everybody in Canada because they're all super nice but they're all really, really chill. It's different from when I'm working in L.A., because everybody's like (uses high energy falsetto): Hey! What's up?" But everybody in Canada is just really really chill and has a really cool attitude and I like that about it. That was the main difference for me, about shooting in Canada, was the people.
If you could build a better boy, what attributes would you give him?
Oh, now. (gives it some thought). He would definitely be funny. Because I love when I talk to people in general who are funny. He would also have to be nice, very nice to everybody, very honest and close to his family as well because I'm very close to my family so I need someone who understands that bond that you have with your family, but that's pretty much it!
Those are good attributes! Are you still filming the series A.N.T. Farm?
No, we're done with that so my sisters and I are focusing more on recording our album and performing and stuff now so that's very exciting for all of us because that's what we've been doing and that's what we were doing before I even started A.N.T. Farm.
You've done a number of guest appearances on other Disney shows – do you have a favorite?
I loved doing Hannah Montana because Miley was so sweet when I met her, she was so sweet. And I also loved doing Wizards of Waverly Place. I was there for like two weeks and everybody was so sweet, especially Selena, just the whole cast was great. Man! And I also loved Jonas. I can't really choose one, because when I was on Jonas, Nick Jonas gave me a guitar, which was awesome! So, I don't know, I can't choose, they were all really really fun.
You've done several big feature films as well, do you prefer working on a TV series or a movie?
I love movies, because it's harder for me to disconnect from a TV show because when you work on it for so long, your character becomes a part of you and it's hard to leave that after awhile. So the movies are a little easier for me because you work on them for a certain amount of time and then you're done. I still get attached to those and it's hard to move away from films as well but it's a lot easier than TV shows. So I'm going to have to say right now, film.
What's your favorite part about filming?
I love giving my character their own flair and their own personality and something different that's not written in the script. I love bringing them to life, that's my favorite part. I also love working with other people and collaborating with directors and producers and other cast members, that's always so much fun for me so most definitely my favorite part of filming is the collaboration and bringing the character to life.
That really comes across on the screen, How to Build a Better Boy is a lot of fun to watch!
Thank you!
What are your dreams for the future?
I'm probably going to be doing the same thing. I'm probably still going to be acting, still going to be singing with my sisters. This has always been my dream, I just happened to start at a really young age so when I get older, I'm probably still going to be pursuing the same thing and doing the same thing, just hopefully on a higher level.
Do you have any hobbies?
I love stalking people on Twitter, if that's a hobby (laughs). I also love to draw. I love sketching and just sitting in my room for hours and reading books. That's one of my favorite things to do. I have a whole bunch of books that I just read over and over again. If I could live in a library, I probably would.
Did you say stalking people on Twitter or talking to people on Twitter?
No, stalking people on Twitter. I go on a lot of our fans' pages and I just kind of stalk them for fun and I have to say, I'm pretty good at it! (laughs)
How to Build a Better Boy debuts Friday, August 15 at 8 p.m. ET/PT on Family Channel. ~Alexandra Heilbron