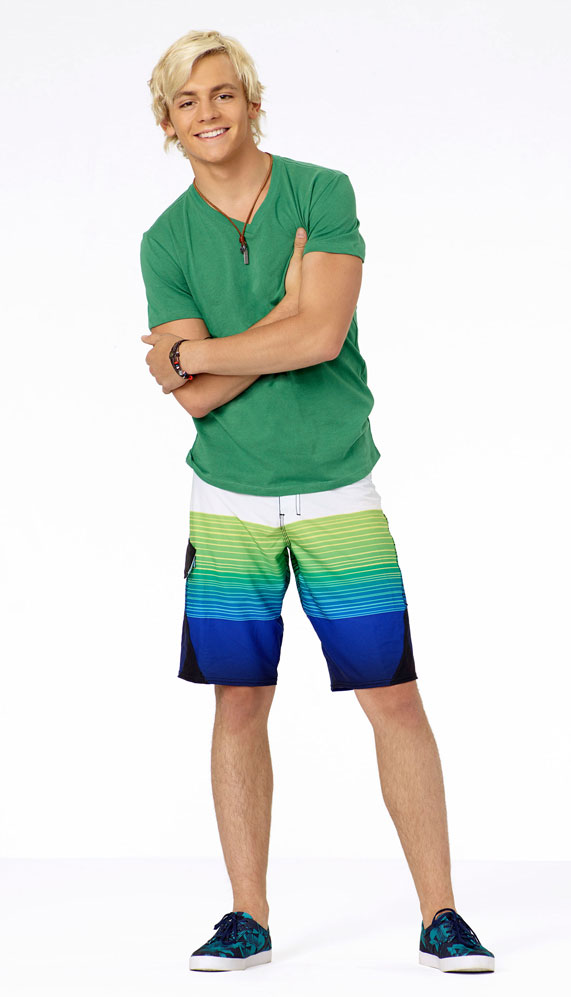 We were lucky enough to have the chance to talk to the incredibly charming and hunky Disney star Ross Lynch about his new movie, Teen Beach 2, which airs on Disney Channel/Family Channel this Friday, June 26. Ross got his big break when he was cast as the lead in the popular Disney Channel show Austin & Ally four years ago.
During a break from the series, he played a starring role in Teen Beach Movie, which quickly became the second-highest viewed Disney Channel movie ever when it aired in July 2013. Now, two years later, Disney has produced a second movie that reunites all the cast members from the first one.
We chatted with Ross about Teen Beach 2, Austin & Ally and what it's like touring with his family band, R5. ~Alexandra Heilbron
In Teen Beach 2, the dance moves looked more intricate than in the first one. Were they more difficult?
What's funny about the movie actually, is that everyone thinks I'm the main dancer, but really I'm only in two dances out of like eight. For me it was pretty simple, I only had to do one or two dances but everyone else, I'm pretty sure they had a few more hours of rehearsal and it was long, hot hours on the beach for them. (laughs).
I read that when you were younger you didn't really want to take dance lessons. 
Well, here's the thing. I never wanted to rehearse and I never wanted to practice or anything. But then once I got onstage, I was having such a good time that I would always look forward to being onstage, I just didn't want to do the rehearsal and stuff.
So you always liked dancing?
Not necessarily the dancing aspect of it, though. Because what bothered me is the dance world. Like all the people that are in the dance world, like Dance Moms, it's like that reality TV show. They are very much like that and that's very far from my vibe in general. I think that's what turned me off of dancing.
What was it like being back with the cast?
It was great. We had a really, really good time, we hit all of our local spots when we went back to Puerto Rico. It was just really, really good. It was nice to know everyone this time around instead of like, working with people you don't know, you know?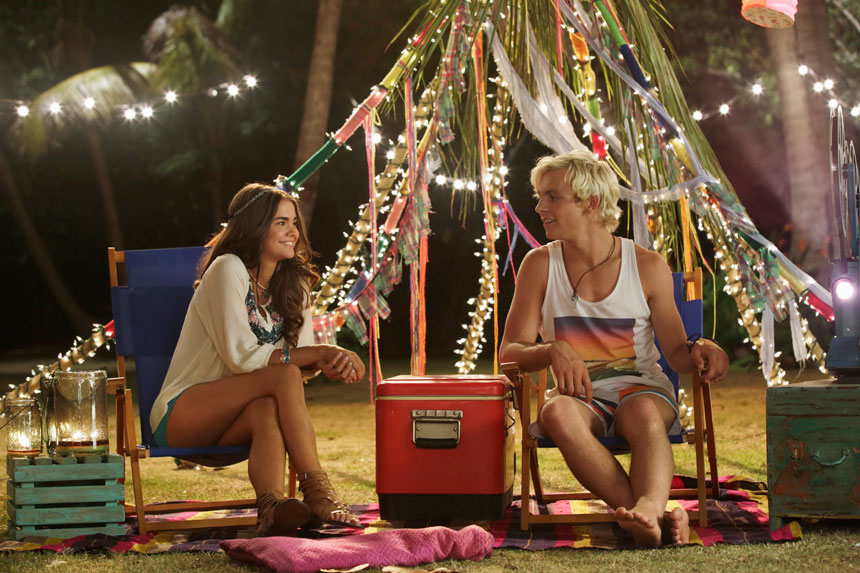 Which cast members are you closest with?
It kind of changed based on the movie. In the first one, Maia and I had a lot of quality time, so I'd say I was the closest with her on the first movie. The second movie I spent a lot of time with one of the dancers named Mason, I spent a lot of time with Garrett. I just spent a lot more time with the whole group rather than one person because the first movie, it was really just Maia and I the whole time.
Were there any funny moments during filming?
I got sprayed with a fire hose in the face.
That must have hurt!
It actually wasn't as bad as I thought. Because they wanted to make it seem like a really powerful engine with spray up in my face, so they just used a fire hose. But honestly it wasn't as bad as I thought it would be.
You wrote a really pretty song called "On My Own" for the film. How did that come about?
As they were accepting songs for the movie, I went to the music supervisor for Disney Channel and I was like "Hey man, I want to write a song for the film." And he was like, "Okay, there's a few songs in the running." When you write a song for a film, it's kind of a competition, so best song wins. I guess we had just the best one and they picked it. But it was really fun to write the song too because instead of writing for your personal needs, it was more for the character. So I had to follow the story and certain guidelines while writing the song and it was a fun process.
I was sad to hear this is the final season of Austin & Ally. How did you feel when you heard the news?
I kind of expected us to go four years. Because we're all getting, we were the oldest Disney Channel cast, I think. We had a good time but every show comes to an end and I think we kind of expected four years and out.
Would you consider doing another TV show?
Not at this time. Just because a TV show is demanding time-wise and I have to spend a lot of time on tour and things like that. So if I were to do TV, it would be probably for a recurring role or guest-starring role. And I would also love to get more into features because it's just less time.
It's huge that you were cast in Austin & Ally without having done any TV before, how did you get the role?
I had been in California for quite some time, auditioning left and right for random stuff. It was just a good audition and then one after another, I got another callback and another callback and then I basically just booked the job. It's really like any other acting audition process that anyone else would go through.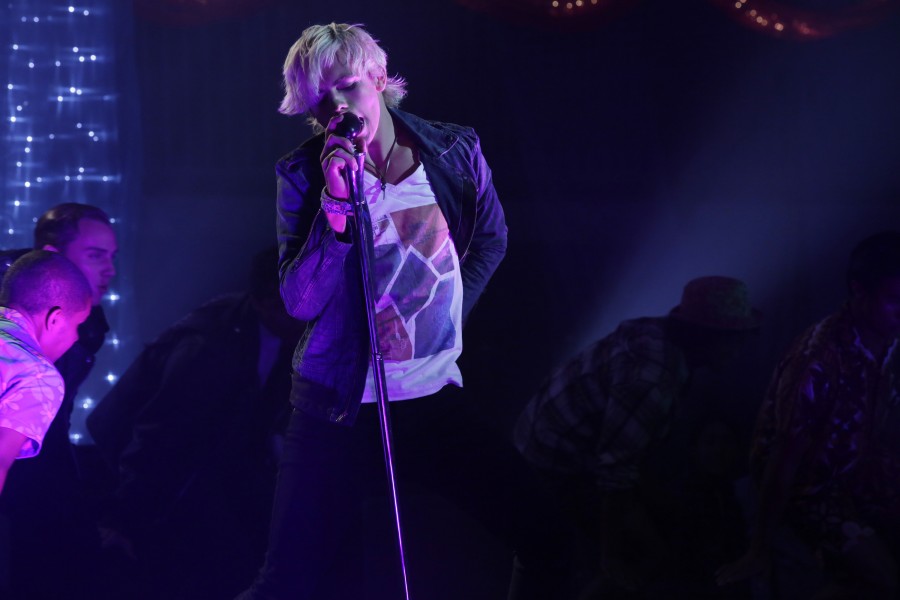 After this, you're going to be very busy touring with your band R5, right?
Yeah, especially for the rest of this year. We'll be going until March.
You have shows in North America and then you're going worldwide until well into 2016. Do you ever get tired of touring?
You know, I've kind of realized over the years that touring, because we've toured quite a bit, that it's kind of whatever you expect. Whatever you program in your head that you're going to do, then you're ready for it. Say we're going for two months, if I mentally know we're going for two months, then it's just easier on me. If I think we're going for two weeks, then someone's like, "Oh no man, we're going for two months," I'd be like, "Oh, crap."
Because you're on tour so often, when do you find time to date? 
You've just kind of got to work it out. Honestly, you have to be honest, you have to be faithful I guess, you know what I mean? And then you kind of have to not worry about money as much because if you want to see each other, you've got to fly that significant other out to the city you're in, maybe spend a few days there. However you want to make it work, but it's definitely challenging.
You tweeted how comical it was when a random guy was trying to pick up a friend, what do you do to let a girl know you're interested in her?
I usually just have a conversation. The reason I thought it was so funny about this guy picking up on my friend is because he came up to her and he was like (uses a surfer dude voice), "What's up, how's it going?" He was trying so hard to be cool and it was not cool at all (laughs). That's just what made me laugh because usually when I go talk to girls, I'm just kind of talking to them, just genuine conversation. With no expectation of where it may lead.
One last question: what's your best memory from Austin & Ally?
There's too many. Every single day we had something to laugh about and something that probably made one of us cry from laughter. We had such good times on that set, it was really, really good.
I'm really going to miss that show. But I'm looking forward to seeing Teen Beach 2. Thank you so much for talking to us today. 
Yeah, of course! Thank you.
Teen Beach 2 is available on DVD this Friday, June 26 and airs the same date on Family Channel at 8 p.m. and repeats on Saturday, June 27 at noon. If you'd like to see Teen Beach Movie to prepare, it airs Thursday, June 25 on Family Channel at 8 p.m. right after a sneak peek at Teen Beach 2.