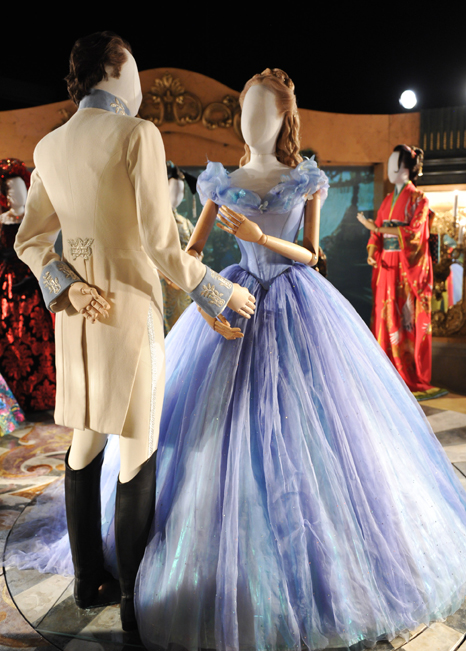 Disney Pictures offered a preview of their new live action movie, Cinderella, in Toronto and Tribute was invited! The exhibition was incredible, featuring spectacular costumes and original props from the upcoming movie directed by Sir Kenneth Branagh, as well as original sketches and artwork from the original 1950 animated feature.
In the Entrance Hall, there were mannequins dressed in the costumes worn by Cate Blanchett as the cruel stepmother, Lady Tremain, and her two daughters, Anastasia (played by Holliday Grainger) and Drisella (Sophie McShera). The stepsisters were dressed in their arrival dresses, which featured handpainted flowers and different textures using a process called flocking. The props in the entrance hall, which were created in the UK at Pinewood Studios where the movie was filmed, included Lady Tremaine's harp, the step family's arrival luggage and Ella's childhood toys including the butterfly toy, her favorite toy from childhood given to her by her devoted and loving father.
Our next stop was the eerie and dark cellar, where poor Ella spends a lot of her time, working at the hearth fire to prepare the meals. An animal lover, Ella has a host of animal companions, including the house mice whom she cares for, that live in the cellar.
When the Prince's Royal Ball is announced, Ella decides to wear her mother's wedding dress, but her stepmother tears it, leaving Ella without a gown to wear. A beggar woman (Helena Bonham Carter) appears in the garden and transforms into her Fairy Godmother in the nick of time, helping Ella make it to the Ball after all. The Fairy Godmother's costume was exquisite – adorned with 10,000 crystals that sparkled under the lights. She turns a giant pumpkin into a beautiful carriage, a lizard and a goose into the coach drivers and Ella's torn dress into a spectacular gown.
Ella arrives at the Ballroom wearing the gown, now adorned with butterflies, 10,000 Swarovski crystals, three miles of fabric and 24 layers. Understandably, the Prince's eyes are immediately drawn to her.
The costume worn by the Prince (played by Richard Madden – Robb Stark of Game of Thrones) was smaller than we thought, having watched him on the popular HBO series. We were amazed by the beauty of the glass slippers, which were made by Swarovski especially for the film. Despite their beauty, they did not look comfortable, and we were told that Lily James, who plays Cinderella, didn't actually have to wear them, as her feet were hidden for the most part by her gown.
The exhibition was a feast for the eyes and made us even more excited to watch the new live-action Cinderella, due to hit theaters March 13, 2015.