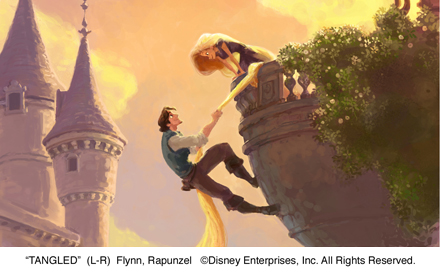 Tangled Movie gets a makeover!
Disney's Rapunzel finally lets down her hair after nearly 50 years in the upcoming Tangled
– By Gerrad Hall
There's no doubt that when Disney puts its finger on an animated film, it's nothing less than magical. The same goes for its famous princesses, which have dazzled adults and kids alike.
Well, Disney has done it again, recreating one of its most appealing characters ever with Rapunzel – the locked-away-in-a-tower, feisty and curious young woman with 70-feet of flowing, golden hair in Tangled—a retelling of the famous Rapunzel tale.
Singer and actress Mandy Moore, who provides voice of Rapunzel, jumped at the chance to play the character. "Rapunzel is a young woman who's just coming of age. She's extremely passionate, creative and eager to investigate the world," Moore told Tribute during a press day in Los Angeles. "This film has an overwhelming theme of female empowerment. She's a lot stronger than even she realizes."
"It's about this character with this irrepressible spirit, somebody who could not be contained," adds Glen Keane, Executive Producer and Directing Animator.
Keane said that Disney has wanted to bring Rapunzel to life since the '40s, but her signature strands presented an enormous challenge. Hand drawing that much hair, frame-by-frame, would have been an arduous task 60, even 20, years ago.
But hand-drawn animation, of course, is no longer the norm.
"No one's ever done anything quite like this," says a proud John Lasseter, CCO of Disney's Pixar, who received a Special Achievement Academy Award for the technology that led to the first feature-length computer-animated film, Toy Story (which he also directed and received another Oscar nomination for co-writing). "It's really remarkable what they've done. It's very, very innovative in the world of computer animation."
In order to develop the innovative hair simulation software, fours years of research began studying the minute details of real hair—from its physics, interaction with the body, interaction and mechanics of individual strands, curls and waves, etc. "We ran many, many, many tests for Rapunzel's hair to find the right feel of it," recalls Kelly Ward, Sr. Software Engineer who described the task as "daunting."
"So often, people put so much time and effort into something, and when they do it just right, the audience won't ever notice it," Lasseter observes. "It's just part of the believability of the film and the world."
Also part of that world, is the mischievously charming Flynn Ryder (voiced by Chuck star Zachary Levy) who becomes Rapunzel's ally in the story. Co-director Byron Howard fondly recalls Zachary Levi's audition as a "brilliant performance." Co-director Nathan Greno adds that when it came time for Levy to sing, "He launched into this James Taylor song and surprised us with this great, sort of natural voice."
No Disney movie would be complete without a villain, and the real force to be reckoned with in Tangled is Rapunzel's "mother," Gothel—voiced by two-time Tony Award-winning Broadway veteran Donna Murphy, who brings a certain gravitas to the desperate, manipulative, sarcastic and cruel character who kidnaps then-baby Rapunzel, who uses her magical mane as a personal fountain of youth.
"We felt we really had an opportunity to build a classic character in Mother Gothel," explains Producer Roy Conli. "There's a little bit of Cruella de Vil in there. There's a little bit of Ursula in there. Even a little bit of Maleficent in there. But she is definitely Mother Gothel through and through."