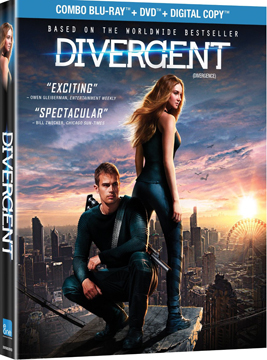 Set in a futuristic Chicago, Divergent gives us a world made up of five groups—called factions—of people. The government likes to pinhole their citizens into either Abnegation (selfless), Dauntless (courageous), Candor (honest), Erudite (intelligent) or Amity (peace loving). Anyone with more than one of those qualities is called Divergent, and is considered a threat by the government. At age 16, citizens are tested to see which faction they fit into. Tris, played by Shailene Woodley, discovers her results are inconclusive—she's equal parts selfless, intelligent and courageous. The woman who administered the test warns her to keep it secret, even from her family, unless she wants to be killed by the government.
A choosing ceremony follows, during which the teens can pick a faction, despite what their tests revealed. Most choose the faction they were born into, but Tris, who doesn't have the same innate selflessness as her brother and parents, decides not to remain in Abnegation, instead opting for the more exciting Dauntless.
What she didn't bargain on is that from the moment she chooses, she's tested in a variety of terrifying ways, from leaping off trains and buildings to having knives thrown at her. Not only is the going tough, the initiates discover that their final acceptance into the Dauntless faction depends on how they handle themselves during these brutal assignments. The ones who don't make it don't get to go home to their families; instead they become factionless: homeless people who live on the fringes of society in abject poverty.
Shailene Woodley, a talented actress with years of experience under her belt, turns in a picture perfect portrayal as Tris. The movie's success rests mainly on her shoulders – she's in nearly every scene and Shailene easily pulls it off, winning over the audience with enormous likability that oozes through on screen. Tris is a quiet, sweet-natured young girl at the beginning of the story, and despite the odds being stacked against her, she's determined to succeed.
British-born Theo James plays Four, an enigmatic Dauntless instructor who's hard on Tris at the beginning of initiation, but as we come to see, is actually on her side and helps her get through some tough situations. However, she's no damsel in distress. Her strength pulls her through more than one dangerous situation.
The movie is based on the first in a trilogy of young adult novels by Veronica Roth and screenwriters Evan Daugherty and Vanessa Taylor do the story justice. It covers all the necessary plot lines while cleaning up and/or leaving out some details that weren't necessary to the integrity of the story.
Despite being almost 2 ½ hours in length, the story never stops moving, keeping viewers on the edge of their seats. Director Neil Burger captures just the right essence of this dark dystopian world, combining it with a hint of romance and just the right amount of action.
While the end of the movie isn't technically a cliffhanger, viewers are left wanting to know more about what happens to Tris and Four. Luckily, movies based on the second and third books in the series are already in the works.
Special features on the DVD/Blu-ray combo pack include: A "making of" documentary called Bringing Divergent to Life, Faction Before Blood, which explains the world that the story takes place in; Deleted Scenes; Audio Commentary with director Neil Burger; Audio Commentary with producers Douglas Wick and Lucy Fisher and a Beating Heart Music Video featuring Ellie Goulding. Other movies opening in home release today include: God's Not Dead; Need for Speed; Orphan Black: Season Two and Oculus. ~Alexandra Heilbron