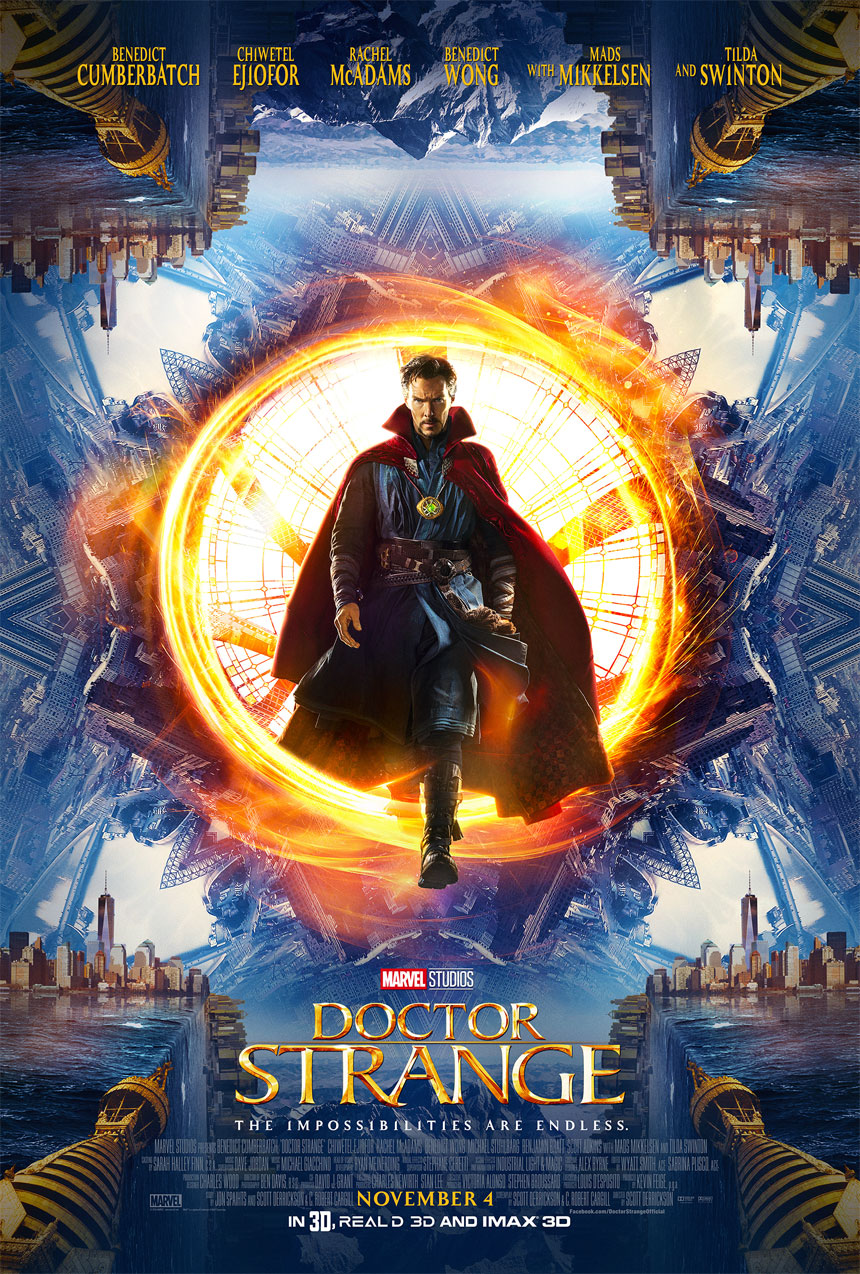 Doctor Strange, starring Benedict Cumberbatch as an arrogant, self-centered neurosurgeon, is a masterpiece of visual effects, combined with an incredible origin story, and top-notch acting.
Two members of our Tribute team, Alexandra Heilbron and Brianne Cove, went to an advance screening and share their thoughts on this fast-moving Marvel adaptation.
AH: Even though I don't consider myself a superhero fan, these Marvel movies keep blowing me away. This last one was entertaining from start to finish.
BC: I'm a longtime comic book fan. Getting to see Marvel open us up to this new side of the universe was impressive. It lived up to my expectations, which were high. Another thing was, it had a really good message about not living life just for yourself.
AH: I didn't know what to expect. I knew the acting would be good, considering the level of talent that was hired, but the production values matched the talent and really surprised me more than any Marvel movie I've seen before. It's such a glossy, obviously expensive project and it's clear every frame is carefully crafted.
BC: That's so true. The visual effects offered so much — it was almost too much to take in, but I mean that in the best way possible.
AH: What I also loved about this is the casting of women in strong roles. I know people have complained about Tilda Swinton playing The Ancient One, but as she says in the film, she's of Celtic origin (a change from the comics, in which The Ancient One is Asian and male) and her acting fit the role perfectly. What did you think of her?
BC: I think she was a great choice because she demands your attention when she's acting.
AH: I also loved Rachel McAdams as Dr. Strange's fellow surgeon. I read that in the comics, her character, Christine Palmer, is a nurse, but I love that they made her a talented surgeon and it fit the story very well.
BC: I wish they would have written more scenes for Dr. Palmer because I felt like she took everything that was going on too easily, which didn't seem very realistic. That's my only negative comment though. Overall, this was definitely one of my top 5 favorite origin movies of all time, which is saying a lot.
AH: It was really spectacular and I think it's a film that will be enjoyed even by people who have never seen a Marvel or a superhero movie. It completely stands alone, you don't have to know anything about it going in.
BC: I love the additional scene at the end with Thor; it was a real treat and suggests that Dr. Strange will make an appearance in the next Thor movie, Thor: Ragnarok. In case anyone out there doesn't know this by now, you should never leave a Marvel movie until all the credits have rolled because there are two extra, very entertaining scenes that come mid- and post-credits. It really opens up the discussion for what's going to happen in future Marvel movies.
AH: So overall, what rating would you give it?
BC: It was a really good movie. I was very impressed. I want to give it a 10, but there were parts that were moving too quickly and I found them hard to follow, so I give it a 9. Also, I think if you don't see it in 3D, it might not be quite as effective.
AH: I agree, the 3D made it really enjoyable. My only complaint was that at about the 40-minute mark, I was getting a little lost, so my mind drifted but then it grabbed my attention again and never let go, so I'll give it a 9 as well.
If you've seen Doctor Strange and would like to rate/review it yourself, click here. ~Alexandra Heilbron and Brianne Cove