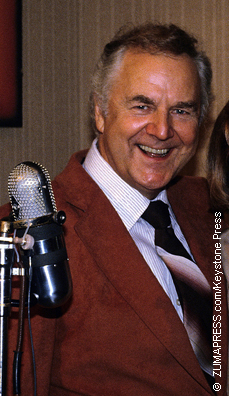 Don Pardo, the announcer best known for Saturday Night Live, died in his sleep on August 18, 2014 in Tucson, Arizona at the age of 96. He was born February 22, 1918 in Westfield, Massachusetts and started his career in radio at WJAR in Rhode Island in 1938. When he moved to New York City, he was hired by NBC as an in-house announcer, a career he would hold for 60 years. He announced shows such as The Price Is Right from 1956 until 1963 and Jeopardy!, which he announced from 1964 until 1975. Don's work on Jeopardy! came in handy for a cameo voiceover in Weird Al Yankovic's 1984 song I Lost on Jeopardy.
Don's work on Saturday Night Live started in 1975 and he continued working on the show for 38 seasons (he did not do the announcements for the 1981–1982 season), even though he officially retired from NBC in 2004. Moving to Tucson, Arizona he would either tape the SNL announcements at his home or travel back and forth to New York City to perform them in Studio 8-H.
Producer Scott Weinstein and SNL cast members shared their memories of Don on Twitter:
It was surreal talking to Don Pardo & hearing his voice in person. He was kind & always game to read whatever ridiculousness we asked him to

— Scott Weinstein (@WeinsteinScott) August 19, 2014
@TheColinJost My 1st year at SNL, I entered elevator to hear Don recommend a tuna sandwich. Never has tuna sounded more important #DonPardo

— Martin Brumbach (@mbbach) August 19, 2014
Don was honored by the Rhode Island Radio Hall of Fame for his long career with his induction on May 14, 2009 and in 2010, Don was inducted into the Television Hall of Fame. He also recited a verse of Frank Zappa's song I'm the Slime found on the Zappa in New York 1993 CD re-release.
Don was predeceased by his wife Kay, in 1995. He is survived by daughter, Dana. ~Andrea Hodgins