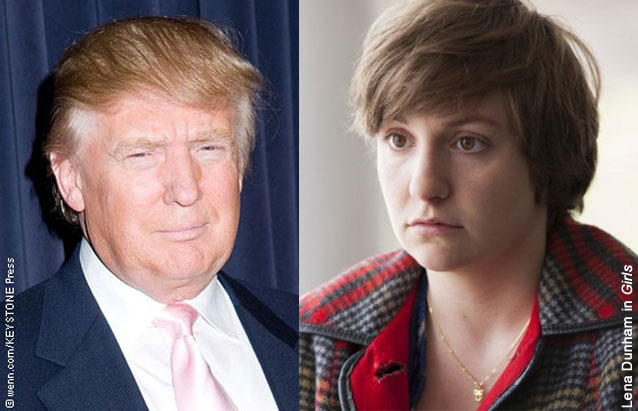 Donald Trump has never shied away from controversy, and he's certainly not about to start now.
During a phone interview with Fox and Friends, the Donald was asked about a comment Lena Dunham made to Andy Cohen at the Matrix Awards. Lena threatened to take up permanent residence in Canada if Donald wins the presidency.
The Girls star said, "I know a lot of people have been threatening to do this, but I really will. I know a lovely place in Vancouver and I can get my work done from there."
In classic Donald style, he seemed giddy at the opportunity to fire back and responded with guns blazing.
The 69-year-old, who's fresh off winning five more primaries Tuesday night, said, "Well, she's a B-actor. You know, she has no – you know, no mojo."
Of course, his tirade roared on. When prompted to address some of the other notable names who've revealed plans to move north of the border should he score the presidency win, including Whoopi Goldberg, he seemed delighted at the chance to lash out.
He said, "I heard Whoopi Goldberg too. That would be a great thing for our country."
Next on his hit list was longtime nemesis Rosie O'Donnell, who has also come forth and admitted that she'd flee the U.S. if Donald prevails.
Overjoyed at the prospect of losing Rosie to Canada, Donald said, "We'll get rid of Rosie? Oh, I love it. Now I have to get elected because I'll be doing a great service to our country. I have to. Now it's much more important. In fact, I'll immediately get off this call and start campaigning right now."
Lena, Whoopi and Rosie aren't the only celebrities with designs to abandon their homes should Donald be handed the key to the White House. Jon Stewart, Samuel L. Jackson and Cher are among those who've claimed they'd emigrate.
Poised to snag the Republican nomination, we'll see if Donald triumphs over the Democratic candidate when the U.S. heads to the polls on November 8, 2016.
Jump to 6:18 in the video below to hear Donald dig into his celebrity critics. ~Matthew Pariselli