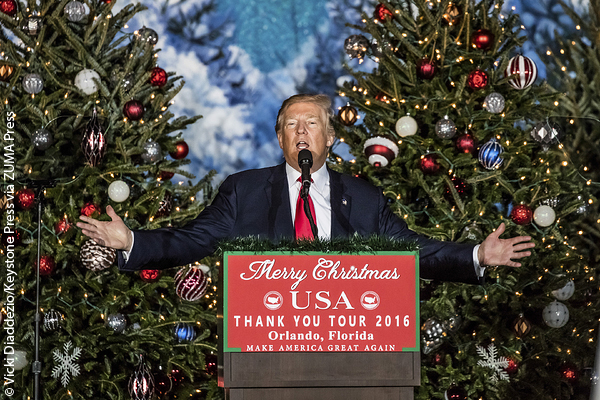 Several stars have declined the offer to attend and/or perform at president-elect Donald Trump's upcoming inauguration. Ask him, though, and he'll tell you that he doesn't want them there anyway.
In one of his characteristically immature tweets, Donald wrote, "The so-called 'A' list celebrities are all wanting tixs to the inauguration, but look what they did for Hillary, NOTHING. I want the PEOPLE!"
The tweet didn't go unnoticed. Chrissy Teigen saw it and jumped at the opportunity to reply and defend "the people," writing, "Hi – we are people. You are our president too. I don't want you to be, but u are. Also we ALL know you are dying without the approval, dear."
Donald's tweet comes on the heels of news that his team's attempt to secure Celine Dion for the Jan. 20, 2017 inauguration failed.
Another performer whom his team tried to enlist was country singer Garth Brooks. That effort was also unsuccessful.
But Celine and Garth aren't the only two celebrities who want nothing to do with the festivities. Elton John, KISS and Italian tenor Andrea Bocelli have reportedly turned down offers as well.
According to The Wrap, those who refused to attend did so because they don't want to "normalize" Donald's presidency.
As it stands, the list of confirmed performers for Donald's inauguration includes the Mormon Tabernacle Choir, the Radio City Rockettes and 2010 America's Got Talent runner-up Jackie Evancho.
Outgoing president Barack Obama's inaugurations were highlighted by performances delivered by the likes of Aretha Franklin and Beyoncé, to name a couple.
Check out Donald and Chrissy's tweets below.
Who do you think the president-elect will try to rope in next? Let us know. ~Matthew Pariselli
The so-called "A" list celebrities are all wanting tixs to the inauguration, but look what they did for Hillary, NOTHING. I want the PEOPLE!

— Donald J. Trump (@realDonaldTrump) 23 December 2016
Hi – we are people. You are our president too. I don't want you to be, but u are. Also we ALL know you are dying without the approval, dear https://t.co/NaVU1iDban

— christine teigen (@chrissyteigen) 23 December 2016