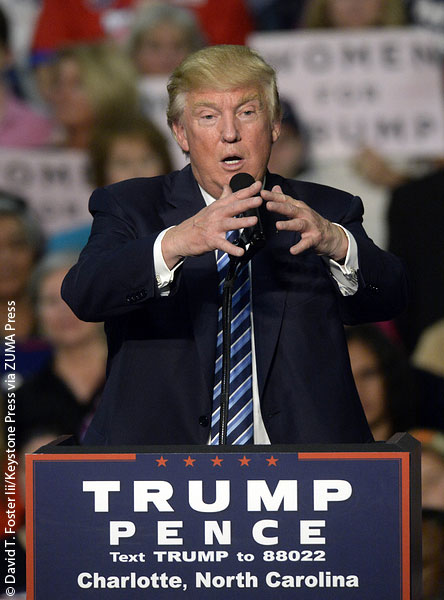 Donald Trump's star on the Hollywood Walk of Fame was destroyed by a man with a sledgehammer early this morning.
The star, which the now-GOP presidential candidate received in 2007 when he was host of NBC's The Apprentice, was literally smashed to pieces at its home on 6801 Hollywood Blvd. near the Dolby Theatre.
Deadline Hollywood first reported the attack, which allegedly took place around 5:45 a.m. when a sledgehammer- and pickax-wielding man dressed as a construction worker took aim at the embedded terrazzo and brass star.
This "construction worker," who identified himself as Jamie Otis, told Deadline he hoped to remove the star with the pickax and auction it off to raise money for the women who've accused Trump of sexual assault. The star is worth $30,000, which means Otis is guilty of a felony.
This isn't the first time someone has vandalized Trump's star since he announced his bid for presidency in 2015. In January, someone spray-painted a swastika on the star, while in June, another person spray-painted a mute sign on it. In July, an artist built a miniature wall topped with barbed-wire around the star, mocking Trump's plan to build a wall at the border between America and Mexico.
While no suspects are currently in custody, a spokesperson told Buzzfeed News that a Los Angeles Police Department investigation is ongoing. An L.A.P.D. detective said the department was aware of the Deadline report, but couldn't verify that Otis was a suspect.
The Hollywood Chamber of Commerce — the organization responsible for the Hollywood Walk of Fame — has yet to comment. ~Shelby Morton
Check out (what's left of) Donald's star below!
Do you think this was justifiable or an inexcusable act of vandalism? Let us know in the comments!
Donald Trump's Hollywood Walk Of Fame Star Vandalized By Sledgehammer https://t.co/NIekn2XWf9 pic.twitter.com/h5Llpk2aNH

— Deadline Hollywood (@Deadline) October 26, 2016