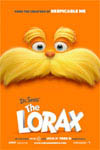 In this Canadian exclusive, Zac Efron introduces us to Ted, the character he voices in Dr. Seuss' The Lorax.
Based on the classic tale, Dr. Seuss' The Lorax follows the journey of 12-year-old Ted as he searches for a real Truffula Tree, the one thing that will enable him to win the affection of the girl of his dreams. To get it he must find the story of the Lorax (voiced by Danny DeVito) , the acerbic yet charming character who fights to protect his world.
Dr. Seuss' The Lorax opens March 2 in 2D, 3D and IMAX 3D.
MORE VIDEOS:
Exclusive First Look
Super Bowl Spot